Cooperation via Vietnam helps to raise Lao media capacity
 
As Lao media gears up to improve itself through cooperation in human resource development to be able to step forward on the global stage, assistance from Vietnam has played a key role in the growth of its journalists and reporters.
Cooperation through education is one of the ways to resolve the problems facing Lao media, which is currently switching over from analogue to digital.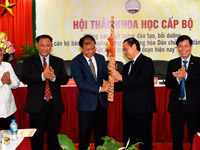 The President of the Lao Journalists' Association, Mr Savankhone Razmountry (
centre
), hands over a
khaen
(Lao traditional instrument) to the Director of the Academy of Journalism and Communication of Vietnam, Associate Professor Truong Ngoc Nam, during the workshop in Vietnam.
Laos and Vietnam have long had a history of cooperation, and Vietnam, with support from the Party and state leaders, media organisations, institutions and schools, has provided valuable support and aid to the Lao media since its establishment.
Recently, a Lao delegation led by the President of the Lao Journalists' Association (LJA) and the Deputy Minister of Information, Culture and Tourism, Mr Savankhone Razmountry, attended a scientific workshop on improving the quality of training and fostering of journalists and media reporters in Hanoi, Vietnam, during June 13-16.
Mr Savankhone, delivering a speech during a meeting, lauded the support of Vietnam. He noted Vietnam's support for the construction of four transmission stations in Laos, and many television and radio stations.
In addition, the print media on both sides have regularly cooperated and assisted each other and exchanged information, he said. Vietnam has also assisted in educating and training a number of Lao personnel.
According to a 2018 report, more than 14,000 Lao students are studying in Vietnam. Some of them are taking media courses at various levels. Numerous personnel in Lao central and local media organisations, including print media, radio and television, have graduated from institutions in Vietnam.
They have taken on important role and are able to fulfill their media role and duties. This reflects the fact that the Party, state and people of Vietnam are sincere and dedicated in helping in the training of Lao personnel in general, and media personnel in particular, especially Vietnamese publications and information institutions, he said.
He added: "Laos and Vietnam are neighbouring countries, which have the Phouluang mountain range as our borderline over a distance of over 2,000 km. The people of our two countries have enjoyed longstanding relations. Many Lao people are sons- or daughters-in-law of Vietnamese and many Vietnamese people are sons- or daughters-in-law of Lao."
Such relations have made the brotherly nations inseparable, and the two sides have extended assistance to each other for many decades, especially during the fight for national liberation to throw off the yoke of foreign aggressors, in which Laos and Vietnam enjoyed friendly relations and special solidarity, he said.
Mr Savankhone pointed out that President Ho Chi Minh had once said, "If the Lao revolution does not achieve victory or colonialism does not leave Lao territory, the Vietnamese revolution as well as the country of Vietnam cannot exist for long."
President Ho Chi Minh and the Vietnamese leadership provided materials, equipment and troops to help the Lao revolutionary mission. Simultaneously, the Lao people and leadership permitted Vietnam to use the country as a channel and battlefield to unite Vietnam, which ultimately happened in 1975.
With regard to the media, Mr Savankhone said, "First of all, we must understand that media affairs are critically important in serving the socialist-building and safeguarding task. Therefore, the Party and state leadership of Laos have always attached great importance to the development of media affairs and regarded 'the media as a sharpened tool of the Party' to combat social disorders, classism, fighting with enemies that are hostile to the people's democratic regime, as well as fighting poverty."
The development of media affairs must take place alongside economic, cultural and social development. Simultaneously, development must ensure positive change, progress and strength in order to make the media capable and prepared, both in terms of quality and quantity, to accurately publicise the ideology of the Party, state and the people, he added.
Based on the conditions on which the Party has carried out its principle-based opening-up and renovation policy, the Lao media has a role to play not only in publicising and protecting the guidelines, policy, laws and regulations, but also the maintenance of political and economic stability, protection and enhancement of the national patriotic tradition, and cohesive solidarity of the entire population.
The Lao media must also strive to be financially self-sufficient in line with the Resolution of the 7th Party Congress. This resolution states: "Attaching greater importance to cultural and social affairs by allocating appropriate funding and officials, placing a supervision and leadership focus on the implementation of these affairs to achieve success with better quality, and better regulating and modernising essential work."The state needs to encourage Lao and foreign organisations and individuals to contribute to the development of the media by providing vehicles, equipment, and funding for media affairs. The state must offer opportunities with policies in place to encourage the participation of organisations and individuals in the implementation of media affairs in line with relevant laws and regulations.
In this era of globalisation, international integration along with a scientific and information communication technology revolution has been expanding rapidly, which positively and negatively impacts every country across the globe, including Laos, he said. The Party and state of the Lao PDR have attached great importance to information and media affairs, which have been a rapidly growing sector.
The Party and state have regarded media as a sharpened weapon and foundation of their existence, being a driving force for the expansion of society and ensuring continuous development. The Lao media has grown alongside social, economic and cultural development.
There has never been an era in which the Lao media was as developed as it is today. Print and electronic media have improved in quality and quantity. They have communicated news through high-speed internet, which has been beneficial in sending news between central and local organisations and in circulating information and news to people of Lao-origin living in other countries.
Mr Savankhone said in order to upgrade the quality of media affairs, his ministry and the Lao Journalists' Association plan to develop information and media affairs in line with Vision 2020.
This vision states: "Developing quality of Lao media that is modern, fast, and timely, being a sharpened voice of the Party and state, be strong and gradually becoming financially self-sufficient, enhancing relations with international media, guaranteeing safety and sustainability of information, and training media personnel to be qualified."
It further states, "Developing information affairs towards comprehensive quality; improving, diversifying and modernising media services; accessing information anytime, anywhere."
To achieve the vision and the strategy on personnel training, the Lao media regards assistance from Vietnam, especially from the Academy of Journalism and Communication of Vietnam, to be of crucial importance. Personnel training should be systematic, progressive and comprehensive in both the short and long-term to guarantee improved quality and strength of media affairs in the future.
Mr Savankhone stressed, "Amid domestic, regional and international circumstances, which offer both opportunities and challenges as mentioned above, I strongly believe that under the leadership of the Party and state with continuous support and assistance from friendly countries, especially from the Socialist Republic of Vietnam, the Lao media will achieve greater success and strength."
The Director of the Academy of Journalism and Communication of Vietnam, Associate Professor Truong Ngoc Nam, said, "We always pay attention to sincerely help Lao media human resources and it doesn't only contribute to development in the media sector, but it also contributes to the extension of our special solidarity and comprehensive cooperation between our two countries."
By Times Reporters
(Latest Update June 28, 2017 )