France offers diversity of cooperation with Laos

The historical ties between France and Laos make the two countries special partners in a variety of important fields.
France assists Laos in its development through support for urban and rural development, the health sector, and the preservation of heritage.
France, along with Germany and, since 2012, the United Kingdom, has one of the only three European diplomatic representations in Vientiane.
Since Laos and France established diplomatic relations on July 31, 1951, friendly relations and close cooperation have continued to flourish in many areas, notably education and health.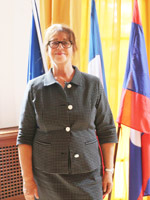 French Ambassador to Laos Ms Claudine Ledoux.
The two nations have successfully cooperated in various sectors such as hydroelectricity, forestry, agriculture, mining and tourism, representing economic opportunities for Laos.
Over the last 10 years, the French government has been assisting various sectors including culture, the economy, civil society, agriculture and rural development, justice and education.
During an interview with local media outlets including National Television, National Radio and Vientiane Times at her residence in Vientiane, the French Ambassador to Laos, Ms Claudine Ledoux, reviewed the fine cooperation between France and Laos and highlighted further cooperation plans.
The ambassador said France's cooperation with Laos was characterised by its diversity.
"France is rich in the diversity of its actors: the French Development Agency, the SCAC, the French School of Vientiane, the French Institute of Laos, research institutes etc. Many associations are present in Laos such as Tétraktys, which works in ecotourism, and Health France Laos, which assists with heart surgery for children," the ambassador said.
France has a strong presence in agriculture and rural development. It supports projects that directly benefit small farmers, including irrigation projects in northern Laos and support for the coffee sector on the Bolaven plateau, and France has reaffirmed its commitment in this area.
In the cultural sphere, more than 130 shows, conferences and meetings were organised in 2017. In the field of education, more than 20 people went to France in the past year to study various subjects including fashion, engineering science, health, French language, and technical subjects. For the record, 72,000 young Lao people are currently learning French.
In the health sector, there is a network of research institutes and university cooperation engaged in the fight against HIV and tuberculosis.
France also supports a dozen civil society associations, especially in the fields of women's rights, disability, and sustainable tourism.
Within the Lao economy, France has a presence in aeronautics and hydroelectricity. It is the seventh largest investor in Laos and the leading Western investor.
France is a great tourist destination. Since the 1990s, France has become the leading tourist destination in the world with 84 million international tourist arrivals each.
In the context of Visit Laos Year 2018, the ambassador gave some advice and ideas on how to make Laos more attractiveto overseas tourists.
"In terms of tourism development in Laos, France welcomes the country's decision to promote ecotourism development. This is a respected orientation for the environment and local populations and a real comparative advantage for Laos," Ms Ledoux said.
"In the field of ecotourism, France has a strong presence. We support pilot initiatives for ecotourism with the association Tetraktys, which accompanies local communities in Konglor in the development of a magnificent cave. And do not forget the French investors in the catering sector. In the field of hospitality, a large French group is present in Vientiane. Many restaurateurs have fallen in love with Laos and offer high quality cuisine that combines Lao and French influences."
Concerning French support for Lao youth, the ambassador said "I would also like to point out that more than 35 percent of the students enrolled at the French International School of Vientiane (LFIV) are Lao. In March this year new buildings were inaugurated. The new site offers very high-quality swimming pool, amphitheatre, football field, and multi-sport facilities, as well as access for people with reduced mobility. Some 400 students will be able to register, with 260 enrolled at the beginning of September."
"France supports the Lao education system through a network of bilingual classes (13 institutions in the country's four main cities) with French technical assistance and the embassy's SCAC. In addition, many non-governmental actors, such as universities with15 active projects as well as associations and private individuals, have been working for some years with Lao educational structures. Young people are provided with a scholarship programme offered by the French government and 20 young Lao nationals are currently studying in France," Ms Ledoux said.
The ambassador also noted that the future prospects for this cooperation and the highlights of next year will be in agriculture and rural development. France will maintain its position in the agriculture and rural development sector, with an emphasis on the protection of biodiversity, heritage and culture. France will continue to support heritage-related urban development, with a gradual shift in Luang Prabang. French cooperation has been active for more than 20 years in the Champassak and Savannakhet regions.
As for culture, the French Institute in Vientiane is offering at least 100 events for the public this year, including shows and conferences on topics of interest.
In the field of justice, France has indicated its intention to engage in the justice sector to strengthen the capacity of the Ministry of Justice, the Supreme People's Court and the People's Procurator's Office.
In terms of professional training, French is an asset in the professional training of Lao people. Several projects such as the signature AUF and Chamber of Commerce (through university and digital training) are supporting this field, together with renewed programmes involving French as a professional language through the SCAC, AUF, UNL and private sector in March 2019.
By Visith Teppalath
(Latest Update July 25, 2017 )