Dr Somphou Douangsavanh receives Japan's Order of The Rising Sun, Gold and Silver Star
It is not often that a person receives an award from a foreign country for making significant contributions to relations between two nations. The Chairman of the Cultural and Social Committee of the National Assembly, Dr Somphou Douangsavanh, is one person who has been honoured with such an award.
Dr Somphou has been awarded the prestigious Order of The Rising Sun, Gold and Silver Star, from the government of Japan for his significant contributions to strengthening parliamentary exchanges and friendly relations between Japan and Laos.
The award was presented during a ceremony held on October 3 at the Japanese Ambassador's residence in Vientiane. The Ambassador of Japan to Laos, Mr Takeshi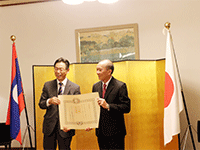 Ambassador Mr Takeshi Hikihara presents certificate to Dr Somphou Douangsavanh recognising his significant contributions to relations between the two countries.
Hikihara, handed over the certificate and medals of honour to Dr Somphou.
The ceremony was attended by the Minister of Education and Sports, Mrs Sengdeuane Lachanthaboun, the President of the Laos-Japan Friendship Association and guests from the National Assembly and related ministries.
Dr Somphou said at the ceremony that he felt proud and honoured that the Japanese government had decided to present the Order of The Rising Sun, Gold and Silver Star, to him.
"This is a national award that has an important meaning for me," he said as he thanked Ambassador Mr Hikihara.
"This award is also important for the National Assembly and our country, and I thank the National Assembly for choosing me to be the Chairman of its Cultural and Social Committee for strengthening parliamentary exchanges and friendly relations between Japan and Laos," he said.
In the past, Dr Somphou participated in many important activities with the Japanese Parliamentary counterparts and he has also visited Japan to exchange lessons about economic development.
Mr Hikihara congratulated Dr Somphou for his significant contributions and hoped he would continue to boost friendly relations between the two sides.
According to the Embassy of Japan, Dr Somphou was born in Xieng Khuang province in 1954. After obtaining a doctoral degree from the Moscow Lenin Youth Institute, he joined the National Assembly and served in various important positions, most notably as the President of the Laos-Japan Parliamentary Friendship Association from 2011-16.
In 2016, he was appointed the Chairman of the Cultural and Social Committee of the National Assembly and has served in the position since. During his tenure as President of the Laos-Japan Parliamentary Friendship Association, Dr Somphou made invaluable contributions to fruitful cooperation between the two countries through active exchanges with numerous members of the Japanese Parliament.
He has enthusiastically supported and taken part in cultural activities, receptions organised by the Embassy of Japan and Japanese organisations.
By Times Reporters

(Latest Update October 12, 2018)