Young woman's Phuan handicrafts reawaken ethnic roots

Phuan is one of the ethnic groups of Laos nourished by deep roots in Xieng Khuang province in the nation's north.
These days we can also find members of the ethnic group in other provinces as well.
Like most of 49 Lao ethnic groups, there are some variations as well as similarities in lifestyle and tradition that remain in a constant state of evolution to today.
In present times, authentic traditions turn out to be an important attractive point for attracting tourism.
In addition to experiences, many travellers look for traditional or local products as souvenirs when they visit a place.
I'm also one who is Phuan yet have less knowledge about my own traditions and culture because my parents came to the capital when they were young.
It was hard just for them to celebrate traditional village culture in such a large town with many ethnic groups.
I must admit it was once hard to for me find something to say about Phuan culture as it's not so famous or well known to me.
Of course, I used to hear stories about the traditional culture but it's something that I never experienced firsthand.
Fast forward to last week, I went to Lao-Viet Fair 2018 and met a young ethnic Phuan woman selling cotton clothes.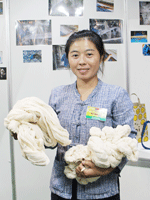 MsVilayphone shows her products.
Her shop was full of interesting weaving and handicraft products that drew me in.
She shared with me the story of her life and the depth of her hearts desire for preserving and promoting Phuan culture.
Ms Vilayphone Keodala, 28, told me that she knows yet not enough about Phuan culture, but she doesn't want any more to be forgotten.
She expects that the best way to make Phuan culture to be known in Laos and abroad is to offer more information about it and produce more handicraft and cultural products.
"Phuan is well-known in Xieng Khuang. Distinctive red bags are a mark of our culture. In the past, people knew that if we carried a red bag, that means we are Phuan ethnic group who are from Xieng Khuang province" Ms Vilayphone said.
Lae Louk Meuang Phoun is the name of her shop and company which is located in Paek district, Xieng Khuang province but has branches in some other provinces.
The label uses Lao cotton to create fabrics, shirts, the Lao sinh skirt, bags and many handicrafts as souvenirs.
All of the products are organic with comfortable cottons and dyes derived from plants.
"Most people think cotton clothes are better for older folk but I want to change their mind so that they know it's also good for young as well. We need to make new designs so it is a good fit to the contemporary fashion styles", Ms Vilayphone said.
"When you feel traditional cotton fabric, it is not perfectly smooth like that made in a factory. It has variations so we can sometimes see that the thread is not totally straight.
"What I can tell you is that some of the very best cotton is from the north of Laos because people there still keep traditional cottons that we can find easily. They still have something to teach us from antiquity," she explained.
Previously, Ms Vilayphone bought products from the people but didn't work with them directly.
Yet in the past nine months, she has gone to many families and joined them to discuss how best to use the cotton.
She found that weaving and making cotton is not that easy but she is much in love with it.
Looking at the market, cotton products are selling well to tourists including European, North American and Asian. She hopes to grow her business at home and abroad in future.
Products are available to order online, especially bags, hand bags and cotton fabric.
You can support this dream and the community and get fashionable while doing it by shopping for classic cottons and help keep ethnic Phuan culture thriving.
By Patithin Phetmeungphuan
(Latest Update July 9, 2018)