Experience Laos' simple beauty through ecotourism
Welcoming Visit Laos Year 2018, Vientiane Times is publishing a series of feature articles and images inviting you to experience the authentic nature, culture, history and hospitality of Laos, Jewel of the Mekong.
Laos is offering several packages that allow visitors to sample the lifestyle of ethnic groups living in mountains and forests as a part of efforts to promote ecotourism.
The country has focused on ecotourism since 2009 and, as a result of developments in this sector, villagers are earning more income from tourists by selling food and homemade products, and by providing services such as homestays, which enable visitors to experience the local lifestyle firsthand.
Deep in the jungle, from Laos' northern to southern provinces, travellers can experience peace and excitement in equal measure while helping local people benefit from forest conservation.
The landlocked country is well-known for its beautiful forests and mountains, while the simple culture of the ethnic groups offers tourists an escape from cities and the chance to grab a breath of fresh air.
Laos also promotes adventure activities such as trekking, mountain climbing, biking, abseiling, zip-lining, and tree-house sleepovers.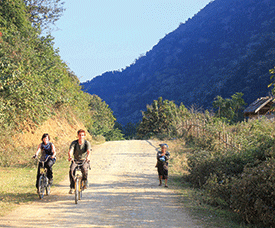 Tourists cycle to an ethnic village.
These activities provide tourists with safe adventures and encourage people living in villages nearby to earn an income by preserving rather than destroying forests.
Ecotourism is viable because Laos is rich in nature, enjoys great biodiversity and has a wide array of wildlife species. The forests contain orchids, ferns and flowers, and visitors can learn about the interdependent world of insects, birds, and butterflies.
Visitors also play the role of forest conservationists by bringing an income to local communities while enjoying a unique adventure in Laos where, despite progress, life remains much as it was centuries ago.
Laos has humid weather and is suitable for visits all through the year, but winter (November to March) is the best time for outdoor activities such as trekking. If you make the effort, it is a journey into the jungle you are unlikely to forget.
The best places for eco-tourism
Nong Khiaw, located 120 km from the centre of Luang Prabang, boasts stunning limestone peaks and colourful boats and fishermen.
Tourists can enjoy cycling, hiking and kayaking, climb hills or simply sit by rivers and soak in the serenity.
From Nong Khiaw, one can pay 30,000 kip for a boat ride taking about an hour to the sleepy town of Muang Ngoi, which is surrounded by towering peaks and has riverside bungalows and open-air restaurants, where one can sip a mango shake and marvel at the view.
If you're up for a bit more action, Ngoy district is a great base for treks to ethnic villages, or hiring a kayak and exploring the river. The sunsets in this town are epic, so be sure to get back before dark to take in the colourful show.
Further north, a trek through the Nam Ha National Protected Area in Luang Namtha province allows visitors to learn about the lifestyles of ethnic groups.
A trek will take you up and down green hills in the National Protected Area, which is an Asean Heritage Site, where you will enjoy the best that nature has to offer. Visitors can learn how to hunt for animals, have a picnic lunch in a jungle camp, and visit areas inhabited by the Khmu tribe.
The province is well-known for the variety of its ethnic groups such as the Khmu, Tai Deng, Tai Dam and Yuan, who live in the forests.
Luang Namtha offers tourists fun activities such as kayaking on the Nam Tha river, visiting riverside villages, and watching the wildlife on the river banks.
Village visits provide the opportunity to observe and participate in bamboo paper making, natural dyeing, weaving, making Lao whisky, and bamboo basket making.
Ecotourism in the Nam Et-Phou Leuy National Protected Area provides income-earning opportunities for local people. Tours here have been designed to create a direct link between conservation and tourism, so that the money visitors pay has a positive impact on encouraging local people to protect endangered wildlife. This is achieved through active community involvement, and the creation of conservation-linked financial incentive mechanisms.
The Nam Nern Night Safari is a 24-hour boat-based tour into the core of the protected area. The trip involves night-time wildlife spotlighting: long-tail boats drift down the river looking for wild and endangered animals such as sambar deer, muntjacs and civet cats.
Additional activities on the tour include a visit to a ranger substation, and a short morning hike to learn about the historical patrimony of this area. Visitors can stay overnight in villagers' bungalows to learn about their lifestyle.
The trekking tours of two to five days offer an opportunity to spot wild animals such as wild cats, bears and dhole, using camera traps set up along trails and maintained by visitors.
The critically endangered northern white cheeked gibbons can be heard in the early mornings. The most challenging trek goes up to the summit of Phou Leuy, the third highest peak in Laos, with an elevation of 2,257 metres.
There are also opportunities for overnight stays in jungle huts or spherical baskets hanging from trees inside the Nam Et-Phou Leuy National Protected Area.
Adventure activities along the Nam Kat river in Oudomxay province began recently under the Forestry Area Conservation Ecological Tourism programme.
The programme seeks to provide tourists with fun and safe adventure activities such as trekking, mountain climbing, biking, abseiling, zip-lining, a tree-house sleepover and traditional lifestyle education, while encouraging local people in seven nearby villages to earn an income by preserving forests.
Done Det and Done Khone in the southern province of Champassak are islands to go to for relaxation. The pace of life is slow and people here live simply in tune with nature.
The islands offer stunning sunsets made more entrancing because you can experience them while walking along the islands, often seeing children swimming in the river.
Getting up early to watch the spectacular sunrises will enable you to see fishermen standing in their boats and hauling in the nets they set out the night before.
The islands also offer visitors an opportunity to learn about farming and traditional methods of fishing.
As the two islands cater to tourists, visitors need not be concerned about connecting to the outside world, as restaurants, bars, bungalows and guesthouses offer free wifi. If you love peace and tranquility and want to escape from technology, rent a bungalow close to the river and then read your favourite book while relaxing in a hammock.
A gentle breeze will be your companion at night, the fresh air helping you to relax into a deep sleep.
How to get there
Lao Airlines and Lao Skyway have daily flights to main towns, from where the remainder of your journey will be by bus or boat. The best way is to ask for a guide from local tour operators.
By Ounkham Pimmata
(Latest Update October 27, 2018)