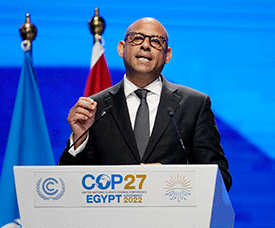 Simon Stiell, UN climate chief, speaks during a closing plenary session at the COP27 UN. (File photo AP)
UN climate chief calls fossil fuel phase out key to curbing warming but may not be on talks' agenda

(AP) -- The world needs to phase out fossil fuels if it wants to curb global warming, the United Nations climate chief said in an interview with The Associated Press. But he said the idea might not make it on to the agenda of "make-or-break" international climate negotiations this fall, run in and by an oil haven.
A phase out of heat-trapping fossil fuels "is something that is at top of every discussion or most discussions that are taking place," UN climate Executive Secretary Simon Stiell said. "It is an issue that has global attention. How that translates into an agenda item and a (climate talks) outcome we will see."
Stiell told AP he couldn't quite promise it would get a spot on the agenda in climate talks, called COP28, in Dubai later this year.
That agenda decision is up to the president of the negotiations, Stiell said. He is the head of the state-owned Abu Dhabi National Oil Company, Sultan al-Jaber.
The decision by host nation United Arab Emirates to make al-Jaber the head of the climate conference has drawn fierce opposition from lawmakers in Europe and the United States, as well as environmental advocates. UAE officials said they want game-changing results in the climate talks and note that al-Jaber also runs a large renewable energy company.
Last year at climate talks, a proposal by India to phase out all fossil fuels, supported by the United States and many European nations, never got on the agenda. What gets discussed is decided by the COP president, who last year was the foreign minister of Egypt, a natural gas exporting nation.
When asked if Egypt's leaders kept the concept off the agenda, Stiell, speaking via Zoom from Bonn, Germany, where preliminary talks start Monday, said he couldn't comment except to say that "it's within their purview."
An engineer-turned government official and diplomat, Stiell walked a fine line between talking about the importance of a fossil fuel phase out and supporting the UN process that has put countries that export oil and natural gas in charge of negotiations about global warming for two consecutive years.
About 94 percent of the heat-trapping carbon dioxide human industrial activity put in the air last year was from the burning of coal, oil and natural gas, according to the scientists who monitor emissions at Global Carbon Project. Al-Jaber's company has the capacity to produce 2 million barrels of oil and 7 billion cubic feet of natural gas a day and said it plans to increase that drilling to 5 million barrels a day by 2027.
Getting a fossil fuel phase out on the agenda this year depends on the conference president al-Jaber and on whether there is enough pressure from other nations, Stiell said.
"Where better to have a discussion ... then in a region where fossil fuels is at the centre of their economy?" Stiell asked.
But the issue of a coal, oil and natural gas phase out is so central to Stiell he brought it up four times in the half-hour interview Saturday. He said the real issue is getting something done, not putting it on the agenda.
In public appearances, al-Jaber has emphasised being "laser-focused on phasing out fossil fuel emissions," not necessarily the fuels themselves, by promoting carbon capture and removal of the pollutant from the air.
Stiell dismissed the idea that carbon removal can be a short-term solution.

(Latest Update June 6, 2023)