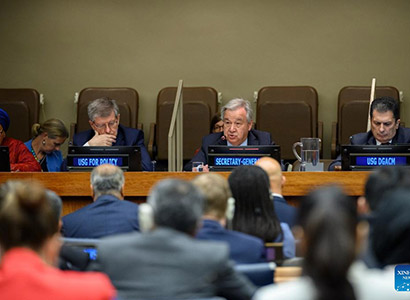 UN Secretary-General Antonio Guterres (second right at the dais) speaks at the launch of three policy briefs under Our Common Agenda at the UN headquarters in New York, on June 5, 2023. Handout via Xinhua
UN chief launches 3 policy briefs on Our Common Agenda
UNITED NATIONS (Xinhua) -- UN Secretary-General Antonio Guterres on Monday launched three policy briefs on Our Common Agenda -- on reforming the international financial architecture, on looking beyond gross domestic product (GDP) as a metric for economic progress, and on forming a Global Digital Compact.
The three documents bring the total number of policy briefs to seven under Our Common Agenda. Four other briefs will follow.
In his policy brief on reforming the international financial architecture, Guterres stressed the need for structural reforms in addition to immediate measures to relieve the burden on developing and emerging economies.
The Bretton Woods system was established in 1945, when many of today's developing and emerging economies were under colonial rule. It is supposed to serve the world but does not represent the world, he said.
The COVID-19 pandemic and its aftermath were a stress test for that system, but it largely failed and did not fulfill its core mandate as a financial global safety net. It did not provide enough of the financing needed to support a recovery in developing countries, many of which are now in the throes of a deep financial crisis, said Guterres.
Fifty-two developing countries are in, or near, debt distress, while debt relief is at a standstill. Inflation and rising interest rates are adding to the unsustainable financial pressure on developing countries. Some governments are being forced to choose between making debt repayments or defaulting in order to pay public sector workers - possibly ruining their credit rating for years to come. Africa now spends more on debt service costs than on health care, he noted.
In the short term, the international community needs to take urgent steps under current arrangements to relieve the burden on developing and emerging economies, said Guterres. "But beyond emergency measures, we need a structural response. The international community must reform the international financial architecture to make it resilient, equitable, and accessible to all."
The policy brief sets out ambitious, concrete proposals in six areas to address historic injustices and systemic bias: global economic governance, debt relief and the cost of sovereign borrowing, international public finance, the global financial safety net, addressing short-termism in capital markets and sustainable finance, and a global tax architecture.
The brief proposes strengthening the voice and representation of developing countries on the boards of the World Bank and the International Monetary Fund (IMF); proposes reforms to IMF quotas, which should be delinked from access to resources; suggests changes to IMF voting rights and decision-making rules; and proposes a representative apex body overseeing the entire system, to enhance its coherence and align its priorities with the 2030 Agenda.
Overall, the proposals in the brief are aimed at moving away from a system that benefits the rich and prioritises short-term gains, toward one that is equitable, and invests up-front in the Sustainable Development Goals (SDGs), climate action, and future generations, said Guterres.
In the policy brief concerning GDP, he urged member states to move toward universal and comprehensive measurements to complement GDP as a metric for economic progress.
GDP "will continue to be an important metric. But there is a growing recognition that GDP overlooks human activities that sustain life and contribute to well-being, while placing disproportionate value on those that damage us and deplete our planet," said the UN chief.
According to Guterres, GDP ignores or obscures the complexity of sustainable development, as deforestation, overfishing and the mining and burning of fossil fuels all increase GDP, while GDP takes no account of environmental sustainability, unpaid care work, and the negative impact on people and societies of many economic activities.
Some countries may have a relatively high GDP, but due to special circumstances, they may be at increased risk from economic shocks. Conversely, some countries with lower GDP may be more resilient to shocks because of a strong social contract, or a geographic location that protects them from the worst impacts of climate chaos, he said.
This policy brief proposes a path toward complementary metrics that more accurately reflect what humans value, said Guterres.
First, it proposes that member states make a political commitment to a conceptual framework that accurately values what matters for people, the planet, and the future.
Second, the brief calls for a technical process to develop metrics to inform this framework. It proposes that an independent high-level expert group should produce a dashboard of key alternative indicators by March 2024.
Third, the brief calls for a massive upgrading of support to countries so that they can develop the data capacity needed to make new metrics operational.

(Latest Update June 7, 2023)