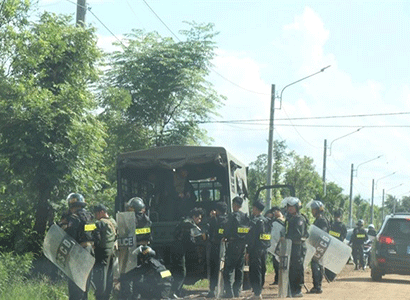 Mobile Police from the Ministry of Public Security along with Dak Lak provincial Police were deployed forces to pursue the suspects involved in the deadly attack on Sunday.
26 detained, weapons seized in deadly armed attack on police headquarter
in Central Highlands
HANOI (Vietnam News|ANN) -- Twenty-six people have been arrested and a number of weapons seized after an armed attack at a police headquarters that left four police officers dead, spokesperson for the Ministry of Public Security Lieutenant General To An Xo said on Monday.
"Efforts to hunt down the remaining fugitives will continue," he added.
As previously reported, on Sunday morning, gunmen entered the building in Cu Kuin district of the Central Highlands province of Dak Lak and began opening fire.
Two people taken hostage were rescued, while a third hostage escaped by themselves. The building is the HQ for the People's Committees of Ea Tieu and Ea Ktur communes.
Local authorities have quickly taken measures to stablise the situation, support the bereaved families and the injured, and urged local residents to stay calm and follow authorities' instructions to ensure safety.
After having a working session with Dak Lak province's authorities on Monday morning, Deputy Prime Minister Tran Luu Quang led a Government delegation to visit the victims of the attack and their families in Dak Lak, asking the local authorities to take care and provide support for them both materially and mentally.
He also visited the two police officers of Ea Ktur Commune who were injured in the incident and are being treated at the Central Highlands Regional General Hospital, Lieutenant Le Kien Cuong, 35, and Captain Dam Binh Bop, 30.
They have passed the critical stage and the conditions are stable at the moment.
The Deputy PM asked the medical staff to pay attention and focus best resources to ensure their swift recovery.
Also on Monday morning, Colonel General Huynh Chien Thang, Deputy Chief of the General Staff of the Vietnam People's Army, led a delegation from the Ministry of Defence to inspect the scene of the attack.
Thang and the army delegation encouraged the forces to continue to guard and protect the scene in the two communes, Ea Tieu and Ea Ktur, and requested the functional forces, self-defence forces, and local authorities to maintain a high level of vigilance, ensure security and order, and guarantee the safety of the people.
On Sunday afternoon, Minister of Public Security General To Lam signed a decision to posthumously promote the ranks of the four police officers killed in the attacks and assist the families of the dead and injured officers.
Each of the two injured officers will receive VNĐ 50 million (nearly US$2,200) as support, while the family of the dead officers will receive VNĐ100 million.

(Latest Update June 13, 2023)