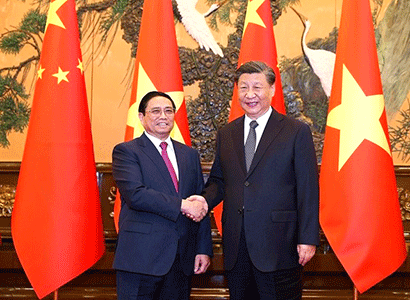 Prime Minister Pham Minh Chinh on Tuesday meets with Party General Secretary and President of China, Xi Jinping, at the Great Hall of the People in Beijing, China.
Vietnamese, Chinese leaders agree to maintain peace at sea, boost trade and transport links

BEIJING (Vietnam News/ANN) -- Prime Minister Pham Minh Chinh and General Secretary of the Communist Party of China (CPC) Central Committee and President of China, Xi Jinping, held talks in Beijing, China on Tuesday, during which they agreed to maintain peace at sea and enhance trade and transport connectivity.
During the meeting on Tuesday in Beijing as part of his official trip to China, PM Chinh emphasised that developing stable, healthy, sustainable, and long-term relations with China was always a strategic choice and top priority in Vietnam's independent, self-reliant, multilateral, and diversified foreign policy approach.
PM Chinh extended his desire for China and its people, under the leadership of the Communist Party of China (CPC) Central Committee and General Secretary and President Xi Jinping at its core, to turn China into a modern socialist country.
He conveyed warm regards and best wishes from Party General Secretary Nguyen Phu Trong, President Vo Van Thuong, and other leaders of the Communist Party and the State of Vietnam to Xi.
President Xi returned his regards and congratulated Vietnam on its achievements in economic and social development. He affirmed China's support and trust in the leadership of the Communist Party of Vietnam and General Secretary Nguyen Phu Trong at the helm to successfully implement the resolutions of the 13th National Congress and making Vietnam a developed socialist country with high income.
Both sides expressed delight over the positive development momentum of the Vietnam-China relationship, emphasising the traditional friendship between the two countries nurtured by their founding leaders, as well as the people of both nations, as a valuable shared asset that needed to be inherited, preserved and promoted.
PM Chinh reaffirmed Vietnam's consistent stand of the one-China principle and expressed interest in China's global initiatives and Vietnam's readiness to exchange and discuss these initiatives.
For his part, Xi affirmed that Vietnam was a priority in China's overall neighbouring diplomacy policy, a strategic choice for China's long-term development of the China- Vietnam relationship.
He expressed the desire and readiness to promote the development of the two Parties and two countries' relations.
PM Chinh proposed strengthening high-level contacts and cooperation across various sectors, particularly in the areas of economy, trade, and investment. He urged China to expedite the opening of its market for Vietnamese agricultural products, facilitate the establishment of additional Trade Promotion Offices in China, grant Vietnam an increased quota for transiting goods through Chinese railways, explore the potential for cooperation in developing standard gauge, high-speed railway connections between the two countries and welcome Chinese businesses to expand high-quality investments in Vietnam.
He also expressed the desire for both sides to enhance people-to-people exchanges and promote friendship, contributing to the construction of a solid social foundation for bilateral relations.
Acknowledging Vietnam's cooperative proposals, Xi expressed his willingness to expand imports of Vietnamese goods, strengthen railway and road connectivity, and enhance border infrastructure, in order to bolster strategic development connectivity between the two countries.
Xi expressed his hope that both sides would intensify the promotion of friendly relations, including the early organisation of youth festivals and youth meetings to enhance understanding, particularly among the younger generations.
He welcomed Vietnam's participation in China's global initiatives and joint efforts to promote peace, cooperation, and development in the region and the world.
Both sides also exchanged views on international and regional issues of mutual concern, agreeing to jointly control and properly handle differences, maintain peace and stability at sea, and strengthen the conductive environment for the development of each country.
Also the same day, PM Pham Minh Chinh met with Chairman of the Standing Committee of the National People's Congress (NPC) of China Zhao Leji.

(Latest Update June 29, 2023)