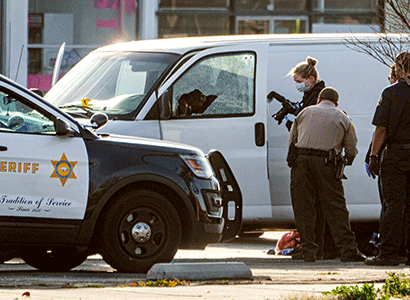 A body is seen on the driver's side of a van as authorities investigate, in Torrance, Calif, Sunday, January 22, 2023.      --Photo AP
California shooter kills 10 at dance club; motive unclear

MONTEREY PARK, Calif. (AP) -- Authorities searched for a motive for the gunman who killed 10 people at a Los Angeles-area ballroom dance club during Lunar New Year celebrations, slayings that sent a wave of fear through Asian American communities in the region and cast a shad-ow over festivities nationwide.
The suspect was found Sunday, dead of a self-inflicted gunshot wound in a van in which authorities say he fled after people thwarted his attempt at a second shooting Saturday night.
The massacre was the nation's fifth mass killing this month. It was also the deadliest attack since May 24, when 21 people were killed in an ele-mentary school in Uvalde, Texas.
Los Angeles County Sheriff Robert Luna identified the man as 72-year-old Huu Can Tran and said no other suspects were at large. Luna said the motive remained unclear for the attack, which wounded 10 people, seven of whom were still hospitalised. Speaking at a Sunday evening news conference, the sheriff said he didn't have their exact ages but that all of the people killed appeared to be over 50.
The suspect was carrying what Luna described as a semi-automatic pistol with an extended magazine, and a second handgun was discovered in the van where Tran died.
Monterey Park Police Chief Scott Wiese said Sunday evening that within three minutes of receiving the call, officers arrived at the Star Ballroom Dance Studio in Monterey Park. There, they found carnage inside and people trying to flee through all the doors.
"When they came into the parking lot it, was chaos," Wiese said.
About 20 to 30 minutes after the first attack, the gunman entered the Lai Lai Ballroom in the nearby city of Alhambra. But people wrested the weapon away from him and witnesses said he fled in a white van, according to Luna.
The van was found in Torrance, another community home to many Asian Americans, about 22 miles (34.5 kilometres) from that second location.
After surrounding the vehicle for hours, law enforcement officials swarmed and entered it. A person's body appeared to be slumped over the wheel and was later removed. Members of a SWAT team looked through the van's contents before walking away.
The sheriff's department earlier released photos of an Asian man be-lieved to be the suspect, apparently taken from a security camera.
Congresswoman Judy Chu said she still has questions about the attack but hopes residents now feel safe.

(Latest Update January 24, 2023)