Childcare workers protest across the country, shutting down centres as they demand improved wages, conditions and respect

(ABC) -- Crowds are gathering in cities across the country as more than 1,000 childcare centres shut down and thousands of early childhood workers protest over pay and conditions.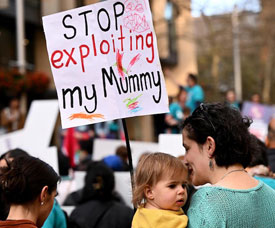 Many workers brought their own children along to the rallies. --Photo AAP: Dan Himbrechts
United Workers Union (UWU) early education director Helen Gibbons described the shutdown as "the largest action of early educators that this country has ever seen".
Some centres have closed for a full day, while others have only been shut for a few hours.
The UWU estimated at least 70,000 families would be affected by the closures.
Ms Gibbons said the sector's workers were calling for change because the existing system was: "Not delivering for educators … not delivering for children … and not delivering for families."
"We need real reform," she said.
Ms Gibbons said workers taking part in the industrial action were focusing their efforts on three demands.
"Pay us what we're worth and give us a reason to stay in the sector," she said.
"The second demand is [to] value early education as education in the same way that we value schools.
"And the third demand is to put children before profit."
The action includes every capital city in Australia's states and territories, as well as some regional centres.
The Melbourne contingent of the rally met at Federation Square, with about 500 people planning a march to Fitzroy Gardens, while in Sydney hundreds gathered at Martin Place.
In Adelaide, more than 200 childcare workers protested on the steps of South Australia's Parliament House.
Hillbank Community Children's Centre director Rebecca Stiles said the situation for workers was dire.
"Today is about educators and recognised for what we are which is educators," Ms Stiles said.
"People are leaving this sector in droves because they can't afford to pay.
"One of the educators has been forced to work at the Adelaide Show.
"One of my other educators si forced to live with their parents: they can't afford to move out.
In the lead-up to the protests, qualified childcare workers taking part shared with the ABC how low wages were putting them under financial stress, particularly with the rising cost of living.
An entry-level childcare employee is paid just 47 cents above the minimum wage, at an hourly rate of Au$21.85.
The federal government has committed to a Au$5 billion reform that will increase subsidies to families using child care from July next year.
But experts have said improved conditions for workers in the sector should be part of the changes as well.

(Latest Update September 8, 2022)