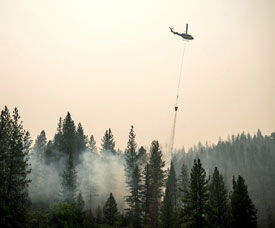 A helicopter drops water on a hot spot while battling the McKinney Fire on Tuesday, Aug. 2, 2022, in Klamath National Forest, Calif. --Photo AP
Firefighters partially surround deadly California fire

KLAMATH RIVER, Calif. (AP) -- Firefighters have gotten their first hold on California's deadliest and most destructive fire of the year and expected that the blaze would remain stalled through the weekend.
The McKinney Fire near the Oregon border was 10 percent contained as of Wednesday night and bulldozers and hand crews were making progress carving firebreaks around much of the rest of the blaze, fire officials said at a community meeting.
The southeastern corner of the blaze above the Siskyou County seat of Yreka, which has about 7,800 residents, was contained. Evacuation orders for sections of the town and Hawkinsville were downgraded to warnings, allowing people to return home but with a warning that the situation remained dangerous.
About 1,300 residents remained under evacuation orders, officials said.
The fire didn't advance on Wednesday, following several days of brief but heavy rain from thunderstorms that provided cloudy, damper weather.
"This is a sleeping giant right now," said Darryl Laws, a unified incident commander on the blaze.
In addition, firefighters expected Thursday to fully surround a 1,000-acre (404-hectare) spot fire on the northern edge of the McKinney Fire.
The fire broke out last Friday and has charred nearly 90 square miles (233 square kilometers) of forestland, left tinder-dry by drought. More than 100 homes and other buildings have burned and four bodies have been found, including two in a burned car in a driveway.
The blaze was driven at first by fierce winds ahead of a thunderstorm cell. More storms earlier this week proved a mixed blessing. A drenching rain Tuesday dumped up to 3 inches (7.6 centimeters) on some eastern sections of the blaze but most of the fire area got next to nothing, said Dennis Burns, a fire behavior analyst.
The latest storm also brought concerns about possible river flooding and mudslides. A private contractor in a pickup truck who was aiding the firefighting effort was hurt when a bridge gave out and washed away the vehicle, Kreider said. The contractor had non-life-threatening injuries, she said.

(Latest Update August 5, 2022)