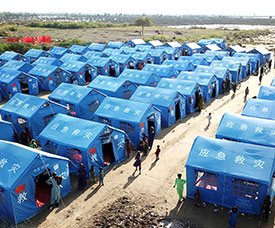 Aerial photo taken on Sept 29, 2022 shows a tent camp using China-donated tents in Matli town of Badin district in southern Pakistan's Sindh province.
Flood control expert team departs for Pakistan

(China Daily/ANN) -- A group of 11 Chinese experts has departed for Pakistan to assist in the country's flood control efforts, according to the Ministry of Emergency Management.
The team, organised by the ministry, also had personnel with the Ministry of Water Resources and China Meteorological Administration, according to a media release published by the ministry on Tuesday.
The group will help Pakistan in disaster assessment and flood prevention and mitigation.
Since June, Pakistan has been hit by severe floods, which resulted in heavy causalities and property losses. Currently, the country remains at a critical juncture in its flood control and disaster relief work, said Zhou Xuewen, vice-minister of emergency management. Zhou made the remarks when he went to see the team off at an airport in Beijing.
The deployment of the team demonstrates China's commitment to stand shoulder to shoulder with Pakistan, he added.
Moin ul Haque, Pakistan's ambassador to China, expressed gratitude from the Pakistani government for the support offered by the Chinese government and people to the country when it is in difficulties.
He said in the airport he looks forward to seeing China and Pakistan further strengthen cooperation on disaster management, especially in early warning and capacity building for disaster control.

(Latest Update October 13, 2022)