Japan needs a movement to support marriage among young people
A promotional photo for outdoor wedding receptions at Nemu Resort in Shima, Mie Prefecture. Fewer and fewer people are getting married in Japan, causing the number of births to decline.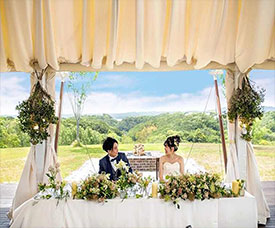 JAPAN (The Yomiuri Shimbun/ANN) -- A government panel of experts made headlines in July by calling Japan's declining number of births a "quiet emergency." Last year, births hit another record low at 810,000, marking a 60 percent drop from approximately 2 million in the early 1970s. The total fertility rate has been below 2.00 - the minimum level necessary to maintain the population - for nearly half a century, reaching 1.30 last year.
If the number of births continues to decline at this rate, Japan will theoretically cease to exist, even without being subjected to any military force. It is truly an "emergency" situation.
Meanwhile, the results of the 2020 census showed shockingly high percentages of people who had never been married by the age of 50 - about 28 percent for men and 18 percent for women.
With declining births in mind, the increase in the number of unmarried people is a major problem. This is because most children are born to married couples. Children born out of wedlock account for only about 2 percent of all births in Japan. Many experts have started to point to the social phenomenon of the increasing number of unmarried people as the true cause of declining births in recent years.
Central and local governments so far have focused their efforts in their fight against the low birthrate on supporting couples who are trying to have children. They have increased the number of day care centers, made medical care for infants free of charge, and introduced free early childhood education and tuition-free high school education programmes. The burden of having children on young couples must be much less than before. While these are of course important policies, they are not effective for increasing marriages.
Kanako Amano, a senior researcher at the NLI Research Institute, says what we need now is "to create a social environment in which men and women who wish to marry can meet their partners and get married while still in their 20s."
As an expert in Japan demographics and the declining birthrate, she has analyzed data on marriage and childbearing and has interviewed many young people. Looking into the age distribution of those who registered their first marriage in 2020, Amano said the most common age was 27 for men and 26 for women, while the average age was 31 for men and 29 for women.
"People in their 20s tend to think that there is no need to rush into marriage, and that study or work is more important. But the data tell us it becomes very difficult for both men and women to find a marriage partner of their liking once they hit 30," she said. The existence of a biological time limit for having children, especially for women, is well-known. Amano says we should also be aware of the time limit for getting married.
But even with awareness of a time limit, the Japanese labor market and employment practices seem to prevent young people from finding partners and getting married.
It is common for Japanese companies to hire young university graduates with no work experience and give them on-the-job-training until they acquire the necessary skills. As a result, young employees in their 20s tend to be regarded as apprentices in their workplaces and are required to work overtime and sometimes even on weekends. Naturally, this leaves scant time for a private life.

(Latest Update October 12, 2022)