Lao ambassador attends Economic and Trade Exchange Conference in China
Officials from Chongqing, China and Laos discussed ways to strengthen cooperation in culture, education, economy, trade and investment.
The two sides will carry out promotion and in-depth exchanges in key areas of cooperation, and make every effort to promote and facilitate more in-depth cooperation between Chongqing and Laos.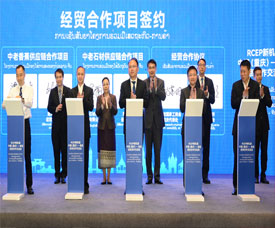 Lao and Chinese officials attend the Trade Exchange Conference in China on Tuesday.
Lao Ambassador to China Mrs Khamphao Ernthavanh and his officials, Allan Yang, Executive Vice Chairman of the China-Laos Business Cooperation Committee and Chief Representative of the Lao National Chamber of Commerce and Industry (LNCCI) in China, on Tuesday attended the "RCEP New Opportunities: China (Chongqing)-Laos Economy and Trade Cooperation and Exchange Forum".
The theme of the Forum was "Seizing the opportunities of RCEP and deepening economic and trade cooperation".
The event focused on the implementation of the Regional Comprehensive Economic Partnership (RCEP) and the benefits of the China-Laos Railway.
Both Mrs Khamphao and Economic Counselor Khouanchay Lemsouthi attended the meeting and delivered speeches.
Director General of the Municipal Commission of Commerce, Zhang Yongwu, also attended and delivered a speech, while several companies involved in China-Laos business made impressive speeches as well.
On behalf of the LNCCI in China, Allan Yang signed a strategic cooperation agreement with the Chairman of the Chongqing Private Economy Chamber of International Cooperation (CPECIC), Zhang Xingming, and Chairman of Chongqing Xiaokang Holdings Co., Ltd.
CPECIC and LNCCI will take the "Belt and Road" initiative as the lead to actively serve major strategies such as the Regional Comprehensive Economic Partnership, the economic corridor along the China-Laos Railway, and the new western land-sea corridor.
It is envisaged that these channels will drive logistics, logistics will drive economics and trade, and economics and trade will spur industrialisation.
Allan Yang delivered a special report on "Golden Opportunities for China-Laos Railway under the RCEP Framework", which received positive feedback from leaders and participants.
After the forum, there were in-depth and extensive exchanges with the Lao Ambassador's delegation.
Mrs Khamphao affirmed the work done by the LNCCI in China, and highly praised the team's achievements.
The two sides also reached consensus on vocational skills training between China and Laos, the building of middle and senior management talents, and economic and trade cooperation and exchanges.
The delegation of the Lao Ambassador to China visited Chongqing and participated in a number of economic and trade activities to further lay a solid foundation for comprehensive cooperation between China and Laos in the future.
The LNCCI will, as always, provide services for all relevant parties to visit Laos and deepen cultural and economic exchanges between Laos and China.
By Times Reporters
(Latest Update July 8, 2022)