Rescuers race against time to save lives at epicentre

(China Daily/ANN) -- Since the magnitude 6.8 earthquake shook Luding county, Sichuan province, at 12:52 pm on Monday, rescuers have been challenging their physical limits to reach disaster-hit areas to transfer the injured to hospitals and send relief materials, especially in the town of Moxi, which is at the epicentre of the earthquake.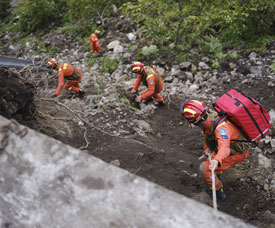 A rescue worker climbs down a slope using a rope in Moxi township of Luding county, Sichuan province on Sept 6, 2022. --Photo provided to chinadaily.com.cn via Sichuan Forest Fire Department
The death toll from the quake stood at 74 as of 2 pm on Wednesday.
Zhang Guosheng, a rescuer from the Ganzi Tibetan autonomous prefecture's Forest Firefighting Brigade, and his team members were among the first rescuers to reach Moxi, which was cut off from the outside immediately after the earthquake.
On Monday afternoon, after walking 4 kilometers on a mountain road to reach Moxi's Qinggangping village, Zhang and his teammates found that the only way to enter the village was by crossing a fast-flowing river that had only a thin steel tube across it, as the bridge was destroyed by the quake. They moved carefully along the tube to enter the village. Then they cut slender but strong tree trunks to make a temporary bridge, which linked the village with the outside and was strong enough to support rescuers carrying stretchers or assisting the injured.
The firefighters slung over their shoulders the ropes that were attached to the stretchers, and used the ropes to help maintain balance as they crossed.
"Every time we took a step, we had to move carefully to avoid slipping. That was unimaginably difficult," Zhang said. "We didn't eat anything, but felt no sense of hunger in such an emergency."
Over the course of Monday night, 17 firefighters had transported 29 injured people, and by Tuesday afternoon, more than 300 residents of the village were moved to a safe place.
On Wednesday, Zhang and his teammates moved to their next stop, neighboring Mogangling village about 20 km away, where impassable roads posed the biggest challenge.
They had to climb slippery mountainsides, which had slopes of about 60 degrees, for three hours before reaching the village.
"We had to go up using our hands and feet because roads had been blocked by fallen stones," Zhang said.
Bringing relief tents there, Zhang and his teammates retrieved property from rubble and damaged homes for residents.
In Moxi's Gonghe village, all seriously injured people were transported to a hospital within 24 hours of the quake.

(Latest Update September 9, 2022)