Biden ramps up pressure on House GOP in debt limit battle
WASHINGTON (AP) -- Fresh off a White House meeting with no serious breakthrough on the debt limit standoff, President Joe Biden is launching a new phase of his pressure campaign against House Republicans as he makes his case that lawmakers should lift the nation's borrowing authority without any strings attached.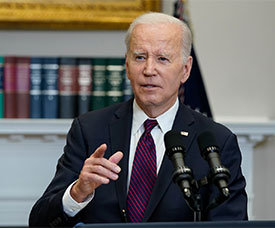 President Joe Biden speaks to the media following a meeting with Congressional leaders about preventing a first-ever government default, Tuesday, May 9, 2023 in the Roosevelt Room at the White House in Washington.  Photo/AP
Biden will travel to Valhalla, New York, on Wednesday to argue that a measure passed by House GOP lawmakers that would lift the debt limit for about a year while curbing some federal spending would impose cuts for veterans care, educators and other domestic priorities. The area is represented by first-term Republican Rep. Mike Lawler, whose district Biden won in 2020.
The White House will use the trip to trumpet what it says is economic progress under the Democratic president — pointing to the number of jobs created during his term and a fresh focus on domestic manufacturing — while warning that an unprecedented debt default would threaten millions of jobs and raise the prospect of a recession.
Back in Washington, senior White House officials and congressional aides were starting to discuss a path to avert a catastrophic debt default as soon as June 1, in preparation for another meeting between Biden and top Capitol Hill leaders later this week. But House Speaker Kevin McCarthy, R-Calif., showed few signs that he and House Republicans were willing to budge from their debt limit proposal, and Biden underscored again that their plan was a non-starter with him.
"He's proposed deep cuts that I believe will hurt American families," Biden told reporters after his meeting with McCarthy, Senate Majority Leader Chuck Schumer, D-N.Y., House Minority Leader Hakeem Jeffries, D-N.Y., and Senate Minority Leader Mitch McConnell, R-Ky.
Biden in his remarks also will invoke the specter of cuts to veterans' care, an issue that has become particularly sensitive in the back-and-forth rhetoric between the White House and congressional Republicans. When the president suggested during the meeting that the House GOP plan could end up cutting benefits to veterans, McCarthy told reporters that he shot back that was a "lie." But Biden disputed that it was a lie, saying that the across-the-board cuts would affect veterans' care and other vital domestic programs.
The stalemate comes as the U.S. government is rapidly bumping up against its legal borrowing authority, meaning that it may not be able to pay its bills as early as the start of next month unless lawmakers agree to lift the limit.
Biden is also scheduled to spend a week abroad on a trip to Japan, Australia and Papua New Guinea later this month. He said postponing his travel is "possible but not likely."
With debt talks showing minimal progress, the White House hopes that Biden's public relations campaign — starting in a congressional district that will be key for Democrats seeking to wrest House control back from Republicans next year increases pressure on GOP lawmakers who can't afford politically to alienate moderate voters. Lawler, as one of 18 House Republicans hailing from a congressional district won by Biden, is a prime target for the White House. Still, Lawler accepted the invitation from the White House, "maybe to their surprise," the lawmaker said in an interview Tuesday. He said it was a "little disappointing" that Biden was spending his time traveling his district rather than negotiating with other leaders in Washington.

(Latest Update May 11, 2023)