Biden declares 'America will not default,' says he's confident of budget deal with GOP lawmakers

WASHINGTON (AP) — An optimistic President Joe Biden declared Wednesday he is confident the US will avoid an unprecedented and potentially catastrophic debt default, saying talks with congressional Republicans have been productive. He left for a G-7 summit in Japan but planned to return by the weekend in hopes of approving a solid agreement.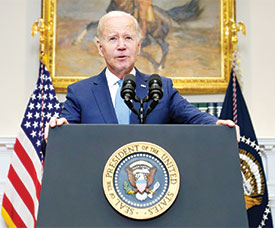 President Joe Biden speaks about the debt limit talks in the Roosevelt Room of the White House, Wednesday, May 17, 2023, in Washington.--Photo AP
Biden's upbeat remarks came as a select group of negotiators began meeting to try and hammer out the final contours of a budget spending deal to unlock a path for raising the debt limit as soon June 1. That is when the Treasury Department says the US could begin defaulting on its obligations and trigger financial chaos.
"I'm confident that we'll get the agreement on the budget and America will not default," Biden said from the Roosevelt Room of the White House. Later Wednesday evening, negotiations resumed behind closed doors at the Capitol.
Democrat Biden and Republican House Speaker Kevin McCarthy have traded blame for a debt-ceiling impasse for weeks. But Biden said of the latest White House session with congressional leaders that "everyone came to the meeting, I think, in good faith."
McCarthy was upbeat, too, though contending Biden had given ground. The president said the budget talks were still separate from the debt limit issue, but the speaker said Biden had "finally backed off" his refusal to negotiate.
"Keep working — we'll work again tonight," McCarthy told reporters later. "We're going to work until we can get it done." Biden said that every leader at Tuesday's Oval Office meeting — Vice President Kamala Harris, McCarthy, House Minority Leader Hakeem Jeffries, D-N.Y., Senate Majority Leader Chuck Schumer, D-N.Y., and Senate Minority Leader Mitch McConnell, R-Ky. — agreed the US must not default on its obligations.
"It would be catastrophic for the American economy and the American people if we didn't pay our bills," Biden said. "I'm confident everyone in the room agreed … that we're going to come together because there's no alternative. We have to do the right thing for the country. We have to move on."
He said he would be in "constant contact" with White House officials while at the summit in Hiroshima. He is canceling stops in Australia and Papua New Guinea that were to follow so he can return to Washington on Sunday. Biden and McCarthy tasked a handful of representatives to work swiftly to try and close out a final deal. They include Steve Ricchetti, counselor to the president; legislative affairs director Louisa Terrell and Office of Management and Budget Director Shalanda Young for the administration, and Rep. Garret Graves, R-La., a close McCarthy ally, for the Republicans.
McCarthy, who has said he would personally be involved, said he planned to stop by the talks later Wednesday. He said he would be in Washington for the weekend while negotiations are underway.
Agreement by the negotiators would still leave any deal needing approval by Democratic Senate and Republican House.
Democrats are upset about the possibility of new work requirements for some recipients of government aid. And Republicans want much tougher budget restraints than the Democrats support.
The positive comments by Biden and McCarthy suggest they believe they can gain the backing of their parties' lawmakers.

(Latest Update May 18, 2023)