Brain-computer tech on march in country
(China Daily/ANN) -- Brain-computer interface technology is becoming more than a hypothetical phenomenon in China with some momentum gained in terms of research and development as well as applications, especially amid the country's latest call to support the cutting-edge sector, said government officials and industry experts during the Zhongguancun Forum that ended on Tuesday.
They made the comments after Zhao Zhiguo, chief engineer at the Ministry of Industry and Information Technology, said that brain-computer interface technology will be strongly supported to be an important development direction and accelerated efforts will be made to explore more application scenarios for the technology.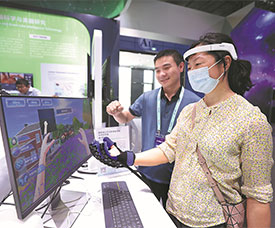 A visitor tries out a brain-computer interface during the Zhongguancun Forum in Beijing.
"China has already formed a well-rounded industry chain including technology and applications in brain-computer interface. Related applications have already been applied in sectors like medical care, education and entertainment," Zhao said.
On Tuesday, a group of listed Chinese AI company shares soared on the brain-computer interface concept, with Innovative Medical Management Co Ltd and Jiangsu Apon Medical Technology Co Ltd surging 10 percent and 20 percent, respectively.
"China's brain-computer interface has been developing really fast. In some niche sectors, China stands at the same forefront with leading countries in the field," said Zhao Jizong, a renowned neurosurgical expert and academician at the Chinese Academy of Sciences.
Brain-computer interface is basically a technology that enables a person to control an external device using brain signals. With vanguard applications like helping people with disabilities, the technology has been a key technological battlefield for global competition.
Zhao noted that at present, the technology is mainly used in clinical trials to diagnose patients with impaired consciousness and to help patients with mobility impairments to walk.
"Although there is a certain gap with the world's most advanced technologies in brain-computer interface, the potential of the country's brain-computer interface market is huge," Zhao added.
According to a report launched by the Brain-Computer Interface Industrial Alliance on Monday, China and the United States are important birthplaces and markets for brain-computer interface technology.
China has a leading advantage in non-implantable acquisition and sensing technology of brain-computer interface. Applications for patents in the segment in China soared to 35 percent of the global total in recent years, followed by 30 percent from the US and 10 percent from Japan, the report said.
"Notably, the level of independent research and development of chips and electrodes, two critical components of brain-computer interface technology, is constantly improving in the country," said Li Wenyu, secretary of the alliance.
Tesla CEO Elon Musk's brain-implant company Neuralink said last week the US Food and Drug Administration had given the green light to its first-in-human clinical trial, right after the world's first interventional brain-computer interface experiment in nonhuman primates, led by China's Nankai University Professor Duan Feng's team, was successfully completed earlier this month.
Market research company Strategic Market Research also pointed out that the brain-computer interface market will reach US$5.34 billion by 2030 in terms of market value.
As brain-computer interface technology gradually develops, He Jianghong, a renowned expert of neurosurgery at Beijing Tiantan Hospital, pointed out that safety problems should be given special attention during the technology's development.
"Attention should be paid to track whether the device can be safely put in and become compatible for a long time, and whether it will cause direct damage such as infections, bleeding or other problems for users," said He.
"Also, once this technology is widely applied, it will inevitably collect data like a large number of human brain signals, thus involving problems in privacy," he added.
Thus, it is necessary for China and other countries to put ethical issues at the forefront and take precautions so that the brain-computer interface industry can develop in a healthy way in the years to come, he added.

(Latest Update June 1, 2023)