China steps up measures to boost 'insufficient' demand; 'deflation' claims baseless

(Global Times) -- As various socioeconomic development goals were determined at the just-concluded two sessions and government officials across the country are moving swiftly to implement relevant policy measures, expectations are growing within China and around the world that China's economic recovery will continue to strengthen.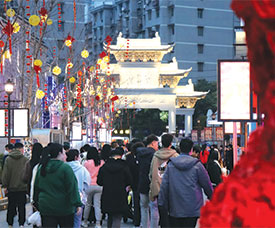 Residents and tourists enjoy nighttime activities such as shopping and cultural performances at Wanshou Palace commercial street in Nanchang, East China's Jiangxi Province, on February 18, 2023. Photo VCG
Despite growing signs pointing to a robust recovery in the world's second-largest economy, some foreign media outlets have been cherry-picking certain monthly economic figures to hype claims of a worse-than-expected recovery pace in consumption and the so-called concerns of deflation.
Such claims are baseless and such concerns are unwarranted, Chinese economists said on Tuesday, while pointing to growing signs of China's robust economic recovery and swift actions by central government departments and local governments to implement policies set at the two sessions to stabilise growth, prices and employment.
China is slate to release, on Wednesday, a set of economic data for the first two months of 2023, including retail sales and industrial output. Many are expecting strong figures showing China's accelerating economic recovery. Bloomberg, for example, reported on Tuesday that all of the figures "are expected to show a rebound from December," citing a gradual recovery in consumer spending and confidence.
Hu Qimu, deputy secretary general of the digital-real economies integration Forum 50, also suggested that February's data will provide more signs of China's economic recovery. "On a year-on-year basis, [the figures] will look better than that during the same period last year," Hu told the Global Times on Tuesday.
Some economic indicators for February have already reflected a solid economic recovery. For example, China's manufacturing purchasing managers' index (PMI), which tracks factory activity, shot up to 52.6 in February, hitting the highest level in over a decade. Also, China's exports fell 6.8 percent year-on-year in the first two months, but it still beats expectations of a 9.4 percent fall by some foreign institutions.
However, despite the stream of improving signs, some foreign media also seized on some indexes to hype negative sentiment about China's economic recovery. Most notably, China's consumer price index (CPI), a main gauge of inflation, rose 1 percent year-on-year in February, which is down 1.1 percentage point from the growth in January. On a monthly basis, the CPI dropped 0.5 percent.

(Latest Update March 16, 2023)