China-Central Asia summit injects strength into regional development, peace, stability
Shaanxi, China: Growing China and Central Asia relations will inject strength into development, regional peace and stability, Chinese President Xi Jinping said when meeting the press following the successful conclusion of the China-Central Asia Summit on Friday.
President Xi Jinping together with President Kassym-Jomart Tokayev of Kazakhstan, President Sadyr Japarov of Kyrgyzstan, President Emomali Rahmon of Tajikistan, President Serdar Berdimuhamedov of Turkmenistan and President Shavkat Mirziyoyev of Uzbekistan jointly met the press.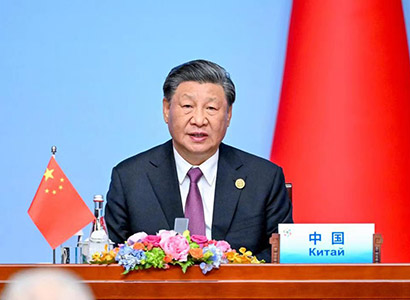 President Xi Jinping and leaders of five Central Asia countries meet the press following the China-Central Asia Summit in Xi'an, northwest China's Shaanxi province.
The Summit was held at the Xi'an International Convention Centre in Shaanxi province.
The six countries are determined to work together to rise up to challenges, foster a closer China-Central Asia community with a shared future, and contribute to building a community with a shared future for mankind, President Xi said.
Efforts will be made to build better synergy among development strategies, promote trade liberalisation and facilitation, expand industrial and investment cooperation, further develop transport corridors connecting China and Central Asia, support the establishment of a China-Central Asia energy development partnership, encourage cooperation in advanced technologies, and ensure food security in the region.
The six countries will deepen people-to-people links across the board by actively cooperating in sports, archaeology, tourism, medical and health care and other areas.  All parties have agreed to establish cultural centres in each other's countries, hold more reciprocal visits, encourage youth exchanges, and jointly implement the "Cultural Silk Road" and "Belt and Road Initiative" programme.
China will continue to provide government scholarships to young students in Central Asian countries, set up more traditional medicine centres in Central Asia, and help to develop high-caliber talents. The six countries will resolutely combat all forms of terrorism, separatism and extremism, as well as drug trafficking and transnational organised crimes.
They will step up cooperation on biosecurity, cyber-security, and disaster relief, security and stability as well as work together to build a Central Asia that features no conflict and enduring peace.
The six countries will work to flesh out the mechanisms involved and establish a permanent secretariat in China. They will make transport, commerce, investment and industry, agriculture, energy, customs and people-to-people exchanges priority areas, and take solid and efficient steps to promote multi-dimensional and in-depth cooperation among the six countries.
President Xi said the Summit had been a good start for cooperation. He believed that, with joint efforts, China's relations with Central Asian countries will strengthen, offer new vitality to the development and revitalisation of the six countries, and inject strong, positive energy to peace and stability in the region.
Xi and leaders of the five Central Asia countries announced a decision to officially inaugurate the China-Central Asia Summit Mechanism, with China and Central Asian countries to take turns to host the biennial summit. The next summit will be held in Kazakhstan in 2025.
The six countries jointly signed the Xi'an Declaration of the China-Central Asia Summit, adopted a list of summit outcomes, and charted a blueprint for the future development of China-Central Asia relations, Xi said.
By Khamphone Syvongxay
(Latest Update May 22, 2023)