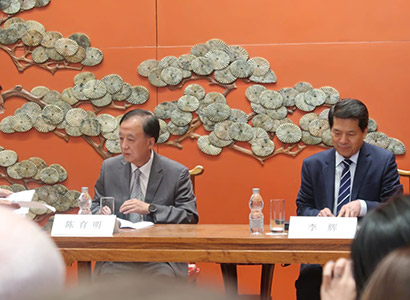 Li Hui (right) gives a briefing in Beijing on his visit to Ukraine, Poland, France, Germany, the EU headquarters and Russia.
China takes steps to address Ukraine crisis

Beijing, China: China has clearly made known its position and suggestions for resolving the Ukraine crisis after listening to the opinions and advice of various parties in European countries.
From May 15 to 26, the Special Representative of the Chinese Government on Eurasian Affairs, Mr Li Hui, visited Ukraine, Poland, France, Germany, the EU headquarters and Russia for extensive contacts and exchanges with various parties on the political settlement of the Ukraine crisis.
All parties attach high importance to Special Representative Li Hui's visit, fully recognise China's positive role in promoting talks for peace, and commend China's call for respecting sovereignty and territorial integrity and observing the purposes and principles of the UN Charter.
This is the first such joint statement issued by China with European countries to date, Mr Li told media from home and abroad at a briefing held in Beijing on Friday about his recently concluded Eurasian trip.
China is willing to actively consider sending representatives to the relevant countries again to push forward dialogue on resolving the Ukraine crisis, he said.
Li said that the risk of conflict escalation remains high, the conflict is still dragging on and escalating, and difficulties remain for all parties to start negotiations and make progress through peace talks.
However, it is important that someone should move forward promotion of consensus, and seek the broadest common ground, to gradually accumulate and create conditions for the resolution of the crisis, Mr Li said. All parties are highly concerned about the risk of crisis spillover, especially in terms of nuclear safety, humanitarian issues, and food security.
Ukraine, Russia and European countries had very close economic, cultural and social exchanges in the past, but many have been artificially cut off, he explained.
Of course, the countries that have suffered the most significant losses are not those far away across the ocean.
"Therefore, we could conclude that the longer the crisis drags on, the greater the sacrifice and cost that Ukraine, Russia and European countries will bear. So it is beneficial for all parties to resolve the crisis as soon as possible," Mr Li said.    
He sensed that neither side, Russia or Ukraine, has closed the door to negotiations.
"We believe that if we truly want to stop the war, save lives, and achieve peace, we must cease the delivery of weapons to the battlefield. Otherwise, it will only continuously escalate the risk of spiralling tensions," he continued.
Going forward, China will continue to act upon President Xi's call for joint efforts in four areas, four principles and three observations, and strengthen dialogue and communication with all parties. China will continue to build common understanding and mutual trust, encourage the international community to find the broadest common understanding, and inject China's contributions to a political settlement of the Ukraine crisis.
By Khamphone Syvongxay
(Latest Update June 5, 2023)