Crews find survivors, many dead after Turkiye, Syria quake

GAZIANTEP, Turkey (AP) -- Thinly-stretched rescue teams worked through the night into Wednesday, pulling more bodies from the rubble of thousands of buildings downed in Turkey and Syria by a catastrophic earthquake that killed more than 7,700, their grim task occasionally punctuated by the joy of finding someone still alive.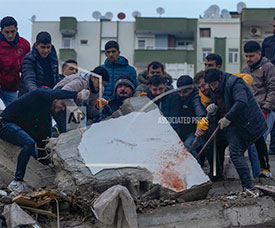 Men search for people among the debris in a destroyed building in Adana, Turkiye. A powerful quake has knocked down multiple buildings in southeast Turkey and Syria and many casualties are feared.
Nearly two days after the magnitude 7.8 quake struck southeastern Turkiye and northern Syria, rescuers pulled a three-year-old boy, Arif Kaan, from beneath the rubble of a collapsed apartment building in Kahramanmaras, a city not far from the epicenter.
With the boy's lower body trapped under slabs of concrete and twisted rebar, emergency crews lay a blanket over his torso to protect him from below-freezing temperatures as they carefully cut the debris away from him, mindful of the possibility of triggering another collapse.
The boy's father, Ertugrul Kisi, who himself had been rescued earlier, sobbed as his son was pulled free and loaded into an ambulance.
"For now, the name of hope in Kahramanmaras is Arif Kaan," a Turkish television reporter proclaimed as the dramatic rescue was broadcast to the country.
A few hours later, rescuers pulled 10-year-old Betul Edis from the rubble of her home in the city of Adiyaman. Amid applause from onlookers, her grandfather kissed her and spoke softly to her as she was loaded on an ambulance.
But such stories were few more than two days after Monday's pre-dawn earthquake, which hit a huge area and brought down thousands of buildings, with frigid temperatures and ongoing aftershocks complicating rescue efforts.
Search teams from more than two dozen countries joined more than 24,000 Turkish emergency personnel, and aid pledges poured in.
In Syria, the shaking toppled thousands of buildings and heaped more misery on a region. On Monday afternoon in a northwestern Syrian town, residents found a crying newborn still connected by the umbilical cord to her deceased mother. The baby was the only member of her family to survive a building collapse in the small town of Jinderis, relatives told The Associated Press.
In Turkiye, as many as 23 million people could be affected in the quake-hit region, according to Adelheid Marschang, a senior emergencies officer with the World Health Organisation, who called it a "crisis on top of multiple crises."
Many survivors in Turkiye have had to sleep in cars, outside or in government shelters. "We don't have a tent, we don't have a heating stove, we don't have anything. Our children are in bad shape. We are all getting wet under the rain and our kids are out in the cold," Aysan Kurt, 27, told the AP. "We did not die from hunger or the earthquake, but we will die freezing from the cold."
Turkish President Recep Tayyip Erdogan said 13 million of the country's 85 million people were affected, and he declared a state of emergency in 10 provinces. More than 8,000 people have been pulled from the debris in Turkey, and some 380,000 have taken refuge in government shelters or hotels, authorities said.
Turkey's Vice President Fuat Oktoy said at least 5,894 people have died from the earthquake in Turkiye, with another 34,810 injured.
The death toll in government-held areas of Syria has climbed to 812, with some 1,400 injured, according to the Health Ministry. At least 1,020 people have died in the rebel-held northwest, according to volunteer first responders known as the White Helmets, with more than 2,300 injured.

(Latest Update Februay 9, 2023)