Debt limit progress as Biden, McCarthy name top negotiators to avert national default

WASHINGTON (AP) -- Debt-limit talks shifted into an encouraging new phase Tuesday as President Joe Biden and House Speaker Kevin McCarthy named top emissaries to negotiate a deal to avert an unprecedented national default. Biden cut short an upcoming overseas trip in hopes of closing an agreement before a June 1 deadline.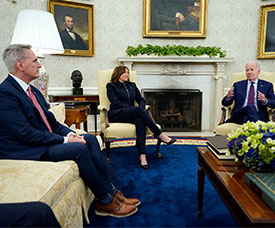 Speaker of the House Kevin McCarthy of Calif.,(left) and Vice President Kamala Harris listen as President Joe Biden speaks during a meeting with Congressional leaders in the Oval Office of the White House, Tuesday, May 16, 2023, in Washington. Photo AP
The fresh set of negotiators means discussions are now largely narrowed to what the White House and McCarthy will accept in order to allow lawmakers to raise the debt limit in the coming days. The speaker said after a meeting with Biden and congressional leaders that a deal was "possible" by week's end, even as — in McCarthy's view — the two sides remained far apart for the moment.
Biden was publicly upbeat after a roughly hourlong meeting in the Oval Office, despite having to cancel the Australia and Papua New Guinea portions of his overseas trip that begins Wednesday. Biden will participate in a Group of Seven summit in Hiroshima, Japan, but then return to Washington on Sunday.
"There's still work to do," Biden said. "But I made it clear to the speaker and others that we'll speak regularly over the next several days and staff's going to continue meeting daily to make sure we do not default."
Senior White House officials, as well as top aides to the four congressional leaders — McCarthy, R-Calif., Senate Majority Leader Chuck Schumer, D-N.Y., Senate Minority Leader Mitch McConnell, R-Ky., and House Minority Leader Hakeem Jeffries, D-N.Y. — have been meeting daily.
But now, Steve Ricchetti, counselor to the president, Office of Management and Budget Director Shalanda Young and legislative affairs director Louisa Terrell will take the lead in negotiations for the Democratic side, while Rep. Garret Graves, R-La., a key McCarthy ally who has been a point person for the speaker on debt and budget issues, will represent Republicans.
"Now we have a format, a structure," McCarthy said as he returned to the Capitol.
Negotiators are racing to beat a deadline of June 1, which is when the Treasury Department has said the US could begin defaulting on its debts for the first time in history and risk a financial catastrophe. The revised itinerary of Biden's upcoming trip showed the urgency of the talks.
White House officials sought to soften the impact of the trip cancellations. National Security Council spokesman John Kirby noted that Biden will already have met with some of the leaders of the "Quad" — the purpose of the Australia leg of the visit — while in Japan, and the president is inviting Australian Prime Minister Anthony Albanese for an official state visit in Washington.
Still, Kirby added, "We wouldn't even be having this discussion about the effect of the debt ceiling debate on the trip if Congress would do its job, raise the debt ceiling the way they've always done."
Even as the Democratic president and the Republican speaker box around the politics of the issue — with Biden insisting he's not negotiating over the debt ceiling and McCarthy working to extract spending cuts with the backdrop of a potential default — various areas of possible agreement appeared to be emerging.
Among the items on the table: clawing back some US$30 billion in untapped COVID-19 money, imposing future budget caps, changing permit regulations to ease energy development and putting bolstered work requirements on recipients of government aid, according to those familiar with the talks.
But congressional Democrats are growing concerned about the idea of putting new work requirements for government aid recipients after Biden suggested over the weekend he may be open to such changes. The White House remains opposed to changes in requirements for recipients of Medicaid and food stamp programmes, although it is more open to revisions for beneficiaries of the Temporary Assistance for Needy Families cash assistance programme.
The idea of imposing more work requirements was "resoundingly" rejected by House Democrats at a morning caucus meeting, according to one Democrat at the private meeting and granted anonymity to discuss it.Progressive lawmakers in particular have raised the issue. Rep. Pramila Jayapal, the chair of the Congressional Progressive Caucus, said, "We want to make sure that these negotiations do not include spending cuts, do not include work requirements, things that would harm people, people in rural areas, black, brown, indigenous folks."
Democratic leader Jeffries' staff sought to assuage the concerns late Monday, while a separate group of more centrist Democrats signaled to their moderate Republican colleagues they are prepared to work something out to reach a debt ceiling deal, aides said Tuesday.

(Latest Update May 18, 2023)