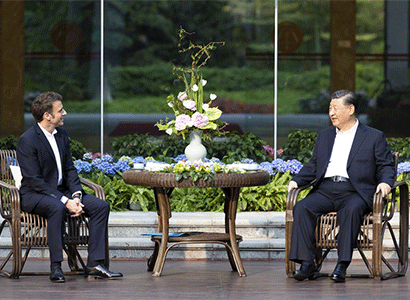 Chinese President Xi Jinping holds an informal meeting with French President Emmanuel Macron in Songyuan, Guangzhou, South China's Guangdong province on April 7. –Photo Xinhua
Macron's fruitful visit shows resuming all-level exchanges 'main tone' of 2023 China-EU ties
(Global Times) -- European leaders were wrapping up their three-day visit to China after Chinese and French top leaders met for informal talks in southern China's Guangzhou on Friday, marking the climax in high-level interactions between China and Europe. The visit also helped stabilise relations amid growing turbulence and uncertainties that the world is facing and reset the cooperation as well as face-to-face interaction, as China reached some consensus with both France and the EU on major global and regional issues, including the Ukraine crisis.
Chinese President Xi Jinping met French President Emmanuel Macron in Guangzhou's Songyuan on Friday afternoon and had an informal meeting with the French leader.
Xi said that over the past two days, the two sides have had in-depth and high quality exchanges in Beijing and Guangzhou, South China's Guangdong Province, increased understanding and mutual trust, and clarified the direction for future cooperation between China and France at bilateral and international levels.
"I am glad that we share many common or similar views on China-France, China-EU relations as well as many international and regional issues, reflecting the high level and strategic nature of China-French relations," Xi said, noting that he is willing to continue maintaining strategic communication and advance China-France comprehensive strategic partnership to a new high level.
Macron said the visit was very successful and yielded fruitful results, which will help advance France-China relations for more progress. The French leader said he is willing to maintain close strategic communication with Xi, and welcomes Xi to visit France in 2024.
The two sides also released a joint declaration on Friday, vowing to enhance political dialogues and boost political mutual trust, jointly promote global security and stability, advance economic exchanges and restart people-to-people exchanges and jointly tackle global challenges.
"Such high-level reception to Macron during his visit also showed our diplomatic courtesy, and that our deeds accord with our words," Cui Hongjian, director of the Department of European Studies at the China Institute of International Studies, told the Global Times on Friday.
China values France's tradition of independence and its important role in advancing the multi-polar world, and that respect was underscored by the hospitality he received in China, Cui said.
While EU foreign policy chief Josep Borrell and German Foreign Minister Annalena Baerbock are reportedly planning to travel to China in coming weeks following the visit of Macron and European Commission chief Ursula von der Leyen this week, Chinese experts believe that more European officials coming to China also show that China's wisdom and solutions are winning more people over, and "the main tone" of China-EU relations this year is stabilising relations, resuming all-level exchanges and turning those consensus into actions.
The three-day visit not only resulted in fruitful business deals in the fields of transport, energy, agriculture, culture and science, but also provided guidance for the future direction of China-France and China-EU relations, as leaders of both sides sought a more reasonable way of co-existing in the post-pandemic era and amid the Ukraine crisis, despite differences and competitions, experts said. 
Cooperation remains priority
"It's very rare to see several EU officials come to visit China within one month, which also showed that Europe has a strong will to safeguard and develop its relations with China, although there are some different voices within the bloc," Cui said, noting that it's important to stabilise relations through such high-level interactions and reset some principles for cooperation, turning those consensuses into practice this year.
During Friday's meeting, Xi outlined China's modernisation drive and welcomed the French side to actively participate in the Canton Fair, the China International Import Expo and the China International Fair for Trade in Services to further explore the Chinese market.

(Latest Update April 7, 2023)