Missouri tornado kills 5 in latest wave of severe weather

GLEN ALLEN, Mo. (AP) -- A tornado ripped through southeastern Missouri before dawn on Wednesday, killing five people and causing widespread destruction as the third in a series of deadly massive storms over the past two weeks struck the nation's heartland.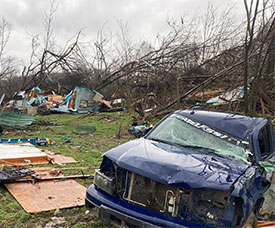 Devastation from a tornado that hit Glen Allen, Mo., in southeastern Missouri, killing several people and causing an unknown number of injuries, is pictured on Wednesday, April 5, 2023.             --Photo AP
Forecasters are keeping a wary eye out for more extreme weather as this year's early severe storm season continues. The storms have spawned dozens of tornadoes, mainly in the South and Midwest, that have killed at least 63 people. Just last weekend, confirmed or suspected tornadoes in at least eight states laid waste to neighborhoods across a broad swath of the country.
The Missouri tornado touched down around 3:30 a.m. Wednesday and moved through a rural area of Bollinger County, about 50 miles (80 kilometres) south of St. Louis. Trees were uprooted, homes turned into piles of splinters, and one building was flipped on its side.
Five people were killed and five were injured, State Highway Patrol Superintendent Eric Olson said at a news conference. Residents in the village of Glen Allen said at least some of the victims were members of a family who lived in a trailer along a state highway.
Little was left of the trailer Wednesday beyond its concrete pads and an axle. A large stuffed animal was lodged in the branch of a downed tree, and furniture, clothing and kitchenware were scattered in a field.
Olson said 12 structures were destroyed and dozens more damaged.
The damage was concentrated around Glen Allen and the small rural community of Grassy, which are separated by a hunting area, said Bollinger County Sheriff Casey Graham in a Facebook post. He didn't immediately release the victims' names.
Charles Collier, 61, said he saw the coroner's van drive by with its lights on in Glen Allen, where he owns a storage facility.
"That was a sad, sad sight - knowing there was bodies in there," said Collier. "I was just numb, thinking about all these other people, what they're going through."
Josh Wells said that the tornado tore half of the roof off his Glen Allen home and pushed in his bedroom wall. Luckily, he fled beforehand with his son to his sister's home because it has a basement.
"We all ran down and huddled against the wall and my brother-in-law made it down just seconds before we heard the roaring sound of the wind and debris crashing around us," he said.
While his sister's home held up, the area reeked of gas because a propane unit was damaged.
Midwest tornadoes have typically occurred later in the spring, but this year's early spate of severe weather continues a trend seen over the past few years, said Bill Bunting, chief of forecast operations at the National Weather Service Storm Prediction Centre in Norman, Oklahoma.
"Although we will likely have several relatively quiet days after the current weather system has moved east of the US, we are entering the time of the year where the potential for severe weather increases and much more of the US becomes at risk," Bunting said in a email.
Typically, dry air from the West going up over the Rockies and crashing into warm, moist air from the Gulf of Mexico are what make the US so prone to tornadoes and other severe storms, experts say.
Missouri Gov. Mike Parson toured the storm damage area Wednesday and said President Joe Biden had called to assure him of federal help. Local agencies anticipate months of recovery efforts, he said.
"I will tell you, I just know because I grew up in a little small town, these small towns, these counties and these cites will come together to help one another out," Parson said.

(Latest Update April 7, 2023)