Trump pleads not guilty to 34 counts of falsifying business records

(Kyodo News) -- Former US President Donald Trump on Tuesday as expected pleaded not guilty to 34 felony counts of falsifying business records, opening an unprecedented legal battle that is likely to drag on and impact his re-election bid.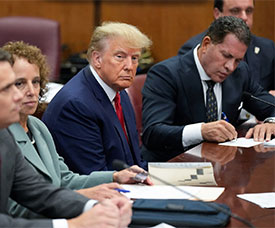 Former President Donald Trump sits at the defense table with his legal team in a Manhattan court, Tuesday, April 4, 2023, in New York. Photo AP
At a Manhattan courthouse, the indictment of Trump -- the first former US president in history to face criminal charges -- was unsealed. The charges are related to his alleged role in the payment of hush money to individuals, including a porn star, in an attempt to insulate his 2016 presidential election campaign from scandal.
New York prosecutors said Trump orchestrated a scheme with others from August 2015 to December 2017 to influence the election "by identifying and purchasing negative information about him to suppress its publication and benefit" his electoral prospects.
The unfolding episode came after Trump was indicted Thursday on undisclosed charges by a Manhattan grand jury following an investigation into the case involving adult film actress Stormy Daniels, who claims to have had an affair with him.
Manhattan District Attorney Alvin Bragg, whose office is leading the probe, said business records were repeatedly falsified to disguise related payments as being for legal services performed by his former lawyer "to conceal criminal conduct that hid damaging information."
"These are felony crimes in New York state, no matter who you are," Bragg said at a press conference held shortly after Trump's arraignment. "We cannot and will not normalise serious criminal conduct."
Trump, who was in office from 2017 to 2021, surrendered to authorities after flying to New York on Monday from his home in Florida and spending the night at his residence in Trump Tower.
The former president was stone-faced as he entered the courtroom with his lawyers for his arraignment, during which he was informed of the charges for the first time.
The 76-year-old, who has announced a bid for the presidency in 2024, is the front-runner for the Republican nomination. Whether the case negatively or positively impacts his chances of securing the nomination or winning the presidency remains to be seen.
After returning to his estate, Mar-a-Lago, on Tuesday night, Trump delivered a long campaign-style speech in front of his supporters, lashing out at the indictment and insisting on his innocence.
"This fake case was brought only to interfere with the upcoming 2024 election and it should be dropped immediately," he said, drawing applause from the crowd.
Speaking earlier to the press outside the courthouse after the hearing, Trump lawyer Todd Blanche said his client is "frustrated" and "upset" but also "motivated."
"It's not going to stop him. It's not going to slow him down," he said.
Blanche said there had been no surprises and his defense team is ready to fight the charges. The next in-person hearing is set for Dec. 4, according to US media.

(Latest Update April 6, 2023)