UN agencies in Ukraine to assess impact of dam's destruction
UNITED NATIONS (Xinhua) -- Representatives from various UN agencies in Ukraine were in Kherson on Wednesday to assess the impact of the destruction of the Kakhovka hydroelectric power plant dam and coordinate the humanitarian response.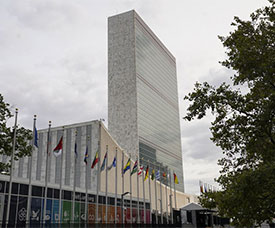 Photo taken on Sept. 14, 2020 shows the outside view of the United Nations headquarters in New York, the United States.
Representatives from the UN Office for the Coordination of Humanitarian Affairs, as well as five UN agencies and some nongovernmental organisations, were on the ground to conduct the assessment, said Stephane Dujarric, spokesman for UN Secretary-General Antonio Guterres.
"They tell us that the disaster will likely get worse in the coming hours, as water levels are still rising, and more villages and towns are being flooded. This will impact people's access to essential services and seriously raise health risks," he said.
On Tuesday, about 1,500 people left their flooded homes, according to the International Organisation for Migration, and more people were evacuated on Wednesday. Most of them are staying in Mykolaiv city, which is close to their homes, said the spokesman.
Access to water is a main concern. Hundreds of thousands of people depend on the reservoir, formed by the dam, for drinking water, and the levels are dropping rapidly. In addition, flooding can also lead to contamination of water sources, increasing health risks, he told a daily press briefing.
The Food and Agriculture Organisation warns that the destruction of the dam will likely impact food security, as thousands of hectares of agricultural land have now been flooded, destroying recently planted crops. Authorities said that the destruction of the dam decimated the irrigation systems in the Dnipro, Kherson and Zaporizhizia regions, he said.
On the response side, the United Nations and humanitarian partners are working nonstop to provide affected communities with the assistance they urgently need. On Tuesday, they distributed nearly 12,000 bottles of water, more than 1,700 kits with essential supplies for children on the move, and 10,000 water purification tablets to five municipalities in Kherson and the city of Mykolaiv, said the spokesman.
Humanitarian organisations are supporting authorities in the evacuations and helping coordinate the accommodation of people arriving from Kherson in transit centres. They are also delivering hygiene supplies and other basic items to Mykolaiv and Odessa for the evacuees there, he said.
Cash, psychosocial and health support and recreational activities for children at the Kherson train station are also part of the ongoing response. The work will continue in the coming days, he said.

(Latest Update June 9, 2023)