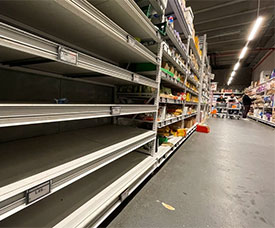 Empty shelves for cheap eggs are seen at a supermarket in Brussels, Belgium, Oct. 31, 2022.
Ukraine crisis has far-reaching negative economic impact: Italy's central bank head

ROME (Xinhua) -- The Bank of Italy on Wednesday said that the ongoing conflict between Russia and Ukraine has had a sprawling impact on the economic health of Italy and Europe in general, pushing the overall median wealth and consumer confidence lower.
In its annual assessment of the previous year from an economic perspective, the central bank's Governor, Ignazio Visco, said that the Ukraine crisis has also had an impact on energy prices, which resulted in an increase in interest rates by the European Central bank, all of which had a far-reaching negative economic impact.
The Ukraine conflict "was a turning point in international relations that heavily affected growth, inflation, and world trade," Visco wrote in the report. "Amid the clear and widespread increase in inflation ... global growth slowed down in a scenario of strong economic and political uncertainty."
The 41-page report also said that the economies of Italy and other European countries were significantly boosted by the European Union's (EU) massive coronavirus recovery package of loans and grants. To date, more than 150 billion euros (US$160 billion) have been distributed to the EU member states, according to the report.
It also said that while the disposable income of Italy's households grew by 6.2 percent last year, that was a 1.2 percent decrease in real terms due to the record-setting inflation sparked mainly by the situation in Ukraine.

(Latest Update June 2, 2023)