Vietnam aims to be leading tourist destination in Southeast Asia by 2030
Hanoi (Vietnam News) -- Vietnam has set its sights on becoming a premier tourist destination in Southeast Asia by 2030, thanks to a new strategy issued by the Ministry of Culture, Sports and Tourism.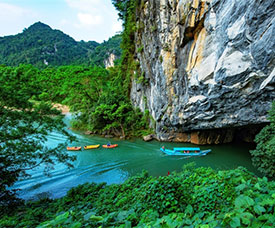 Phong Nha Cave is one of the most impressive destinations in Vietnam. --Photo VNA/VNS
The plan aims to bolster the country's tourism brand and enhance its competitiveness while supporting Vietnam's overall tourism development strategy.
The ambitious initiative aims to raise awareness and generate greater interest in the many attractions Vietnam has to offer, ultimately establishing the country as a top-quality and sustainable destination for high-spending, long-stay guests.
By achieving these goals, Vietnam's tourism sector hopes to cement its status as the first choice for visitors in its target markets.
Digital marketing activities must work more effectively with higher reach and more interactions, plus an increasing number of visitors and followers to websites and pages, as well as engagement, on social networking platforms of the Vietnam National Administration of Tourism. The strategy also mentions the improvement of Vietnam's ranking position on tourism marketing-related indicators under the World Economic Forum's Tourism Development Capability Index, particularly in the fields of price competitiveness and IT readiness in tourism services.
Under the strategy, by 2025, Vietnam's tourism is expected to recover from the COVID-19 pandemic fully and welcome 18 million international visitors while serving 130 million and maintaining the growth rate of domestic visitors at 8-9 percent per year.
By 2030, the country aims to welcome 35 million international visitors, with a growth rate of 13-15 percent per year, while serving 160 million domestic tourists, with a growth rate of domestic tourists at 4-5 percent per year. Regarding the international market orientation, in 2022-2025, the tourism sector aims to fully restore traditional foreign markets and attract tourists from emerging markets like India or the Middle East.
In 2026-30, the tourism sector aims to maintain and expand the scale of traditional markets like Northeast Asian countries, Europe, the Asean region, North America, Russia, and Oceania, and increase its market share of customers with high spending capacity, as well as diversify markets towards sustainable development.

(Latest Update March 10, 2023)