Xi says dialogue only viable way out for Ukraine crisis
BEIJING (Xinhua) -- Chinese President Xi Jinping said on Wednesday that dialogue and negotiations are the only viable way out for the Ukraine crisis, and no one wins a nuclear war.
He made the remarks while talking to his Ukrainian counterpart, Volodymyr Zelensky, over phone. The two sides exchanged views on China-Ukraine relations and the Ukraine crisis.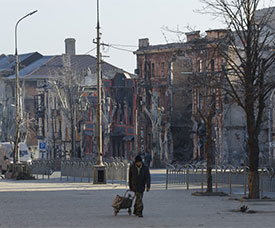 A man walks past damaged buildings in Mariupol, Jan 27, 2023. Photo/Xinhua
China will send a special representative of the Chinese government on Eurasian affairs to visit Ukraine and other countries to conduct in-depth communication with all parties on the political settlement of the crisis, he said.
Xi pointed out that bilateral relations have gone through 31 years of development and reached the level of strategic partnership, which has boosted the respective development and revitalisation of the two countries.
Xi said he appreciated President Zelensky's repeated expression of emphasis on the development of China-Ukraine ties and cooperation with China, and thanked Ukraine for providing considerable assistance for the evacuation of Chinese citizens last year.
Mutual respect for sovereignty and territorial integrity, said Xi, is the political foundation of the bilateral ties.
He called on both sides to focus on the future, keep on viewing and making plans for bilateral relations from a long-term perspective, and extend the tradition of mutual respect and treating each other with sincerity, so as to propel the development of the China-Ukraine strategic partnership.
China's willingness to develop its relations with Ukraine is consistent and clear, Xi said, adding that no matter how the international situation changes, China is willing to work with the country to push forward mutually beneficial cooperation between the two countries.
Xi pointed out that the Ukraine crisis is evolving in complex ways with major impacts on the international landscape.
On the Ukraine crisis, China always stands on the side of peace, and its core stance is to facilitate talks for peace, he said.
Xi noted his proposals of four points about what must be done, four things the international community must do together and three observations, saying that on this basis, China released its Position on the Political Settlement of the Ukraine Crisis.
China did not create the Ukraine crisis, nor is it a party to the crisis, Xi said, adding that as a permanent member of the UN Security Council and a responsible major country, China would not sit idly by, nor would it add oil to the fire, still less exploit the situation for self gains.
Everything China does is aboveboard, said the Chinese president.
On the nuclear issue, all relevant parties must stay calm and exercise restraint, truly act in the interests of their own future and that of humanity, and jointly manage the crisis, he said, adding that with rational thinking and voices now on the rise, it is important to seize the opportunity and build up favorable conditions for the political settlement of the crisis.
It is hoped that all parties would seriously reflect on the Ukraine crisis and jointly explore ways to bring lasting peace and security to Europe through dialogue, Xi said.
China will continue to facilitate talks for peace and make its efforts for early ceasefire and restoration of peace, he added.
China has sent multiple batches of humanitarian assistance to Ukraine and will keep providing help to the best of its ability, Xi said.
For his part, Zelensky congratulated President Xi on his re-election, commended China for its remarkable achievements, and expressed confidence that under the leadership of President Xi, China will successfully address various challenges and continue to move forward.
China upholds the purposes and principles of the UN Charter in international affairs and has significant influence on the international stage, Zelensky said, adding that the Ukrainian side is committed to the one-China policy, and hopes to advance all-round cooperation with China, open up a new chapter in Ukraine-China relations, and jointly safeguard world peace and stability.
Zelensky shared his views on the current state of the Ukraine crisis, thanked China for providing humanitarian assistance to Ukraine, and welcomed China's important role in restoring peace and seeking diplomatic solution to the crisis.

(Latest Update April 28, 2023)