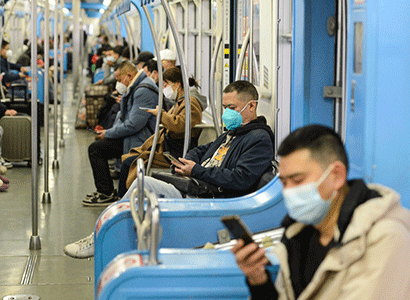 Residents of Southwest China's Chongqing take the subway on December 5, 2022. The city resumed subway service from 6:30 am that day and residents needed only to present their green health code to access public transit services. Photo: cnsphoto
At least 19 cities scrap tests to use public transit

(Global Times) -- At least 19 cities across China scrapped negative nucleic acid test results as a requirement for riding public transport as of Monday, part of the country's broader efforts to further optimise COVID-19 response in order to gradually resume social and economic activities.
Considering the weaker virulence of Omicron and that the majority of ongoing infections are mild or asymptomatic cases, Chinese public health experts are discussing the necessity of downgrading the management of the COVID-19 response, as China has always adjusted its epidemic policies in accordance with the changing situation with the aim of protecting its people at the maximum level.
Cities including Chengdu in Southwest China's Sichuan, North China's Tianjin, Beijing, Shenzhen in South China's Guangdong, Shanghai and Wuhan in Central China's Hubei, announced that local subways will no longer check passengers' nucleic acid test results, according to media reports.
More than 10 cities and regions in East China's Zhejiang ended regular mass testing, and local residents in cities like Hangzhou and Ningbo do not need to scan their nucleic acid codes or QR codes in public places, except in special locations such as elder care centres, kindergartens, primary and middle schools.
In Shenzhen, a city dubbed as China's Silicon Valley, local residents do not need to present their negative nucleic acid test results to their communities, offices, restaurants and supermarkets. They only need to scan their health code and location QR code for entry.
Shenyang, capital city of Northeast China's Liaoning, issued a similar notice on Monday, allowing some public places such as bathing centres, massage facilities and beauty salons and entertainment halls to gradually open for business.
Shanghai continued optimising its epidemic control measures on Monday by scrapping negative nucleic acid test results for public places except for special locations such as elder care centres, schools and restaurants as well as entertainment centres starting on Tuesday.
Some Chinese public experts welcomed the current adjustments, saying that they are the latest moves to optimise the country's response to the changing situation in accordance with the characteristics of the mutations.
Chinese health officials also emphasised that China's epidemic response has always been improved and adjusted in a scientific way.
"China has been constantly optimising its COVID-19 response and protecting people's lives and health, while aiming to minimise the COVID impact on social and economic development," Mao Ning, spokesperson of the Chinese Foreign Ministry, told a routine press conference on Monday.
The country has kept the rate of severe cases and deaths at a relatively low level on the global scale, and facts proved that China's epidemic policies are effective and scientific, the spokesperson said.
Tong Zhaohui, a respiratory critical care expert and director of the Beijing Institute of Respiratory Disease, was quoted as saying in media reports on Monday that the Omicron strain causes much lower rates of severe cases and deaths compared with wild types and strains of concern. Compared with the 2009 global flu season, the current severe case ratio amid COVID-19 is relatively lower.

(Latest Update December 6, 2022)