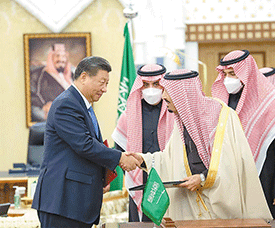 Chinese President Xi Jinping meets with King Salman bin Abdulaziz Al Saud of Saudi Arabia at Riyadh's al-Yamamah Palace in Saudi Arabia on December 8, 2022.            --Photo Xinhua
Historic summits chart course for China-Arab, GCC ties

(Global Times) -- Chinese President Xi Jinping and leaders from Arab states and GCC countries on Friday gathered in Riyadh, capital of Saudi Arabia, to continue developing bilateral friendliness, chart the course for building a China-Arab community with a shared future and further advance pragmatic cooperation.
Xi's ongoing trip, which includes attendance of the first China-Arab States Summit and the China-Gulf Cooperation Council Summit, marks great progress in China-Arab relations in terms of mechanism-building as well as a concrete cooperation agenda, observers said.
They held the belief that closer ties between China and the Arab world not only result in contact between two types of civilisations, but will also bring strong impetus to the high-quality development of the China-proposed Belt and Road Initiative (BRI), and enhance mutual trust and support, which are conducive to regional security and prosperity in a turbulent world facing challenges of geopolitical tensions and economic downturn.
Xi on Friday hailed the first China-Arab States Summit as a milestone in their relations when delivering a speech at the summit.
Xi said at the China-GCC summit that China and states of the GCC are natural partners for cooperation and called on the two sides to be partners in promoting unity, development, security and civilisations.
Xi also proposed five major areas for cooperation in the next three to five years, including energy, finance and investment, innovation and new technologies, as well as aerospace, and language and cultures. Xi said China will continue to import more crude oil and liquefied natural gas from GCC countries and strengthen co- operation in oil and gas development as well as in clean and low-carbon energy technologies. He also called on the two sides to carry out oil and gas trade settlement in RMB.
Unprecedented dialogue
Liu Zhongmin, a professor at the Middle East Studies Institute of Shanghai International Studies University, hailed the summits, both of which convened for the first time, as an unprecedented step in leveling up the mechanism of bilateral communication.
The meeting of heads of state will chart the major course of bilateral relations, under which topics ranging from development and prosperity, consolidating consensus of regional and international hot-button issues to the building of a China-Arab community with a shared future can be fully discussed and the consensus can be implemented well, Liu continued.
Xi's latest trip was described by China's Ministry of Foreign Affairs as the largest and highest-level diplomatic event between China and the Arab world since the founding of the People's Republic of China and an "epoch-making milestone" in the history of China-Arab relations.
Arab states' high expectations for the events were seen from the high-level diplomatic protocols and whirlwind of bilateral meetings their leaders held with Xi on the sidelines of the multilateral summits. Western media have also been closely watching these events with some unsubtly calling it a result of the US being distracted from the region.
Ebrahim Hashem, a UAE strategist and former adviser to the chairman of the Abu Dhabi Executive Office, which is responsible for Abu Dhabi's long-term strategies, told the Global Times that "the Arab-China summit is the most important dialogue in the history of Arab-China relations to date," which will help shape the direction of Arab-China relations for at least the next five to 10 years.
One of the major impressions the Global Times reporters in Riyadh received from remarks by media workers and scholars in Riyadh was their recognition of mutual respect and non-interference. Hashem noted that mutual trust and respect between the two sides are rapidly growing, driven by similarity in their world views and future visions.
According to Yahya Mahmoud bin Junaid, chairman of the Riyadh-based Centre for Research and Intercommunication Knowledge, China does not interfere in the affairs of others and does not impose its values and traditions; therefore, it is welcomed in Arab countries.
Nadia Helmy, an expert in Chinese political affairs and professor of political science at Beni Suef University in Egypt, told the Global Times that China has not taken a biased position in the fierce regional competition in the Middle East.
On the other hand, its BRI encourages regional countries to establish partnerships with China, and achieve win-win results.

(Latest Update December 12, 2022)