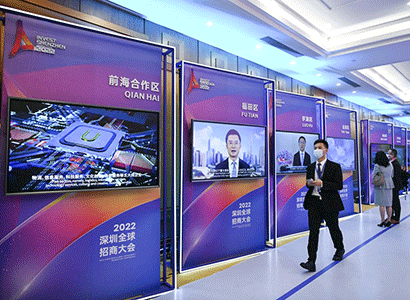 Videos of Shenzhen's various districts are displayed at the 2022 Shenzhen Global Investment Promotion Conference in Shenzhen, south China's Guangdong Province, Dec. 9, 2022.
China moves to boost foreign investment, trade as COVID-19 measures adjusted

SHENZHEN (Xinhua) -- Many localities across China are moving fast to boost foreign trade and investment as the country has adjusted its COVID-19 response to facilitate the orderly recovery of normal life and production.
Many local governments, particularly those in the country's booming coastal regions, are holding foreign investment promotional activities or arranging charter planes to send business delegations to meet with overseas customers or investors.
Last week, China announced a new set of measures to optimise its COVID-19 response, ranging from allowing home quarantine for mild and asymptomatic cases to reducing nucleic acid tests to make it easier for people to travel and enter public venues.
It is widely thought that China's recalibration of its COVID-19 response and ensuing quick actions will give a solid boost to the world's second-largest economy, which was under pressure this year amid COVID-19 resurgences.
Investment promotion
Shenzhen, a southern Chinese manufacturing and tech hub, secured a huge amount of investment at a recent investment fair as it strives to boost global investor confidence in its future development.
The metropolis bordering Hong Kong saw contracts for 315 projects, with a total investment of 879 billion yuan (about US126.36 billion), inked at the 2022 Shenzhen Global Investment Promotion Conference on Friday.
The contracts signed at the conference cover the fields of new-generation electronic information, biomedicine and health, as well as the green and low-carbon industry and the marine industry. Global investors include Amazon, Intel and A.P. Moller-Maersk.
Caroline Wu, managing director of Greater China at A.P. Moller-Maersk, said that 50 percent of Maersk's supply chain management business in Greater China area comes from Shenzhen. "Maersk is highly aligned with Shenzhen's development strategy and will continue to increase investment in Shenzhen in the future."
The investment event featured a series of activities, including a number of parallel overseas sessions and industrial investment promotional activities in 16 cities across five continents.
At the Tokyo session, Shenzhen trade officials and the Japan-China Economic Association signed a letter of intent to jointly promote exchange and cooperation between Shenzhen and Japanese businesses in the fields of new energy, energy conservation and environmental protection.
"We once again extend an invitation to global businesspeople: Invest in Shenzhen, build a winning future," said Zhang Feimeng, head of Shenzhen's commerce bureau. Zhang said Shenzhen would continue to strengthen its protection of foreign investment, improve foreign investment services, and facilitate and deepen investment and cooperation by holding a series of activities, including policy presentations and investment promotions.

(Latest Update December 14, 2022)