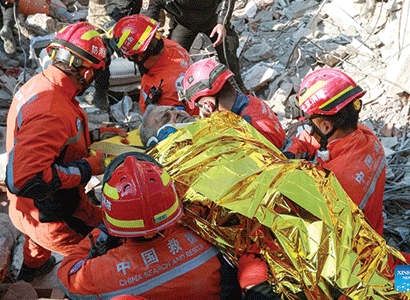 Chinese and Turkish rescuers transfer an earthquake survivor in Antakya in the southern province of Hatay, Türkiye, February 12, 2023.                                                         --Photo Xinhua
Chinese rescuers rush to find more quake survivors

(China Daily/ANN) -- China's official and civilian rescue teams worked against the clock over the weekend to find survivors trapped under rubble, following the February 6 earthquakes in Turkiye and Syria.
By Sunday, the official rescue team from the Chinese mainland had saved five people and located eight bodies while surveying 49 collapsed buildings in Antakya, one of the worst-hit cities in Turkiye's southern Hatay province.
In a three-hour rescue operation on Friday, a woman was pulled to safety from ruins by the official team, more than 100 hours after the first quake, a magnitude 7.8 temblor, hit. About nine hours later, a second, magnitude 7.5, quake struck the region.
The team was called to the site after their Turkish counterparts discovered signs of life while clearing a pile of rubble. During the operation, the Chinese rescuers squeezed a flexible endoscope camera through small gaps in the debris to survey the conditions beneath. They also worked with Turkish rescuers to break up the surface of rubble to gain access to the woman and extract her safely.
On Saturday evening, with technical support from the Chinese team, Turkish rescuers successfully saved a man during a joint search mission in Antakya where survivors were found the previous day.
The 82-member official Chinese team has been working closely with its international counterparts from Italy, the United Kingdom, Serbia, Slovakia and Oman, ensuring that search and rescue missions are well coordinated.
Meanwhile, a 59-member team sent by the Hong Kong government pulled three survivors from six-meter-deep rubble in Hatay on Saturday.
Yiu Men-yeung, head of the HK team, said that it was exciting to find the survivors six days after the earthquake. Rescuers will do their best to search for more people and won't give up hope, Yiu added.
China's civilian rescue teams also continued to search for survivors over the weekend. As of Friday morning, 15 civilian Chinese rescue teams, comprising 288 members, had made it to quake-hit regions in Turkiye.
On Saturday, the Rescue Team of Ramunion helped locate seven people trapped in an apartment building in Iskenderun, Hatay, after 10 hours of searching.
Unfortunately, they were all dead, the team's command center said.
The Ramunion team has been involved in search and rescue missions in four cities in Hatay since arriving in Turkiye on Wednesday. By Saturday night, the team had found seven survivors.
Meanwhile, China also delivered on Saturday morning its first earthquake relief supplies to Turkiye, including tents and medical equipment, according to the China International Development Cooperation Agency.
The death toll in Turkiye and Syria surpassed 33,000 on Sunday, AP reported.
Zhao Mi, a Chinese national who has lived in Antakya since 2019, survived the earthquake. While receiving treatment at a hospital, she recalled the terrifying moment the quake struck early in the morning.
She and her children were sleeping in separate bedrooms when the 15-story apartment building they had been living in collapsed on Monday, Chinese media reported on Saturday.

(Latest Update Februay 14, 2023)