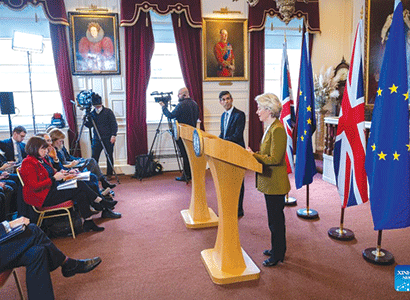 UK Prime Minister Rishi Sunak (2nd right) and European Commission President Ursula von der Leyen (1st right) attend a joint press conference in Windsor, Britain, on Feb. 27, 2023.
UK, EU reach new post-Brexit deal for N. Ireland

LONDON (Xinhua) -- The United Kingdom (UK) and the European Union (EU) concluded on Monday a new post-Brexit trade arrangement for Northern Ireland.
The agreement -- dubbed the "Windsor Framework" -- was struck over the Northern Ireland Protocol, aiming to ease the trading issues created by the Protocol.
After months of negotiations, the deal was announced by UK Prime Minister Rishi Sunak and European Commission President Ursula von der Leyen after their meeting in Windsor near London.
"I'm pleased to report that we have now made a decisive breakthrough," Sunak said at a joint press conference with von der Leyen. "Together, we have changed the original Protocol and are today announcing the new Windsor Framework."
He said the agreement delivers the smooth flow of trade within the UK, as goods destined for Northern Ireland will travel through a new Green Lane, with a separate Red Lane for goods at risk of moving on into the EU.
In the Green Lane, burdensome customs bureaucracy will be scrapped, meaning food retailers such as supermarkets and restaurants as well as wholesalers will no longer need hundreds of certificates for every lorry, Sunak told reporters.
"This means we have removed any sense of a border in the Irish Sea," he said.
The two sides have also amended the legal text of the Protocol to ensure the country can make critical value-added tax and excise changes for the whole of the UK, "for example on alcohol duty, meaning our reforms to cut the cost of a pint in the pub will now apply in Northern Ireland."
With a settlement on medicines, moreover, drugs approved for use by the UK's medicine regulator will be automatically available in every pharmacy and hospital in Northern Ireland.
A new so-called "Stormont Brake" was also introduced. It will allow the elected Northern Ireland Assembly to stop EU goods laws that would have "significant and lasting effects on everyday lives." When pulled, "the UK government will have a veto," the prime minister said.
"This gives Northern Ireland a powerful safeguard," he said.
Many had called for Stormont, or the Northern Ireland Assembly, to have a say over these laws, he noted. "But the Stormont Brake goes further and means that Stormont can in fact stop them from applying in Northern Ireland."
Sunak called the Windsor Framework a "turning point" for the people of Northern Ireland, saying it fixes the practical problems they face and preserves the balance of the Belfast Good Friday Agreement.
Noting that this year will mark the 25th anniversary of the Belfast Agreement, von der Leyen said the new Windsor Framework is here to benefit people in Northern Ireland and support all communities celebrating peace on the island of Ireland.

(Latest Update March 1, 2023)