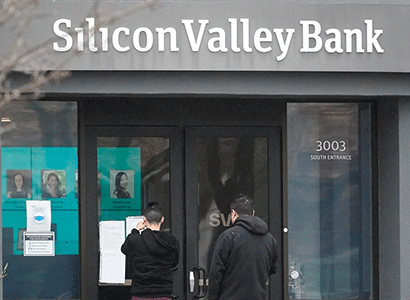 People look at signs posted outside of an entrance to Silicon Valley Bank in Santa Clara, Calif., Friday, March 10, 2023. Photo AP
One of Silicon Valley's top banks fails; assets are seized

NEW YORK (AP) -- Regulators rushed Friday to seize the assets of one of Silicon Valley's top banks, marking the largest failure of a US financial institution since the height of the financial crisis almost 15 years ago.
Silicon Valley Bank, the nation's 16th-largest bank, failed after depositors hurried to withdraw money this week amid anxiety over the bank's health. It was the second biggest bank failure in US history after the collapse of Washington Mutual in 2008.
The bank served mostly technology workers and venture capital-backed companies, including some of the industry's best-known brands.
"This is an extinction-level event for startups," said Garry Tan, CEO of Y Combinator, a startup incubator that launched Airbnb, DoorDash and Dropbox and has referred hundreds of entrepreneurs to the bank.
"I literally have been hearing from hundreds of our founders asking for help on how they can get through this. They are asking, 'Do I have to furlough my workers?'"
There appeared to be little chance of the chaos spreading in the broader banking sector, as it did in the months leading up to the Great Recession. The biggest banks those most likely to cause an economic meltdown have healthy balance sheets and plenty of capital.
Nearly half of the US technology and health care companies that went public last year after getting early funding from venture capital firms were Silicon Valley Bank customers, according to the bank's website.
The bank also boasted of its connections to leading tech companies such as Shopify, ZipRecruiter and one of the top venture capital firms, Andreesson Horowitz.
Tan estimated that nearly one-third of Y Combinator's startups will not be able to make payroll at some point in the next month if they cannot access their money.
Internet TV provider Roku was among casualties of the bank collapse. It said in a regulatory filing Friday that about 26 percent of its cash US$487 million was deposited at Silicon Valley Bank.
Roku said its deposits with SVB were largely uninsured and it didn't know "to what extent" it would be able to recover them.
As part of the seizure, California bank regulators and the FDIC transferred the bank's assets to a newly created institution the Deposit Insurance Bank of Santa Clara. The new bank will start paying out insured deposits on Monday. Then the FDIC and California regulators plan to sell off the rest of the assets to make other depositors whole.
There was unease in the banking sector all week, with shares tumbling by double digits. Then news of Silicon Valley Bank's distress pushed shares of almost all financial institutions even lower Friday.

(Latest Update March 13, 2023)