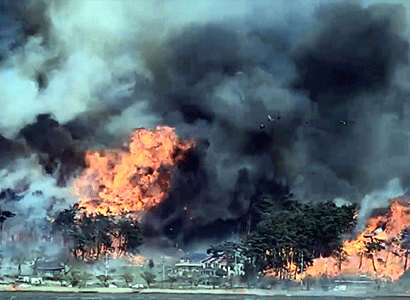 A mountain in Gangneung, Gangwon province, is on fire, Tuesday.
Hundreds flee Gangneung wildfire

(Korea Herald/ANN) -- Hundreds of residents and tourists evacuated from a wildfire that spread fast with strong winds blowing across Gangneung, Gangwon province, on Tuesday, amid growing concerns over additional damages due to high winds and dry weather.
According to the Gangwon Fire Headquarters, the forest fire broke out in Nangok-dong of Gangneung, Gangwon province, at around 8:30 am on Tuesday, and the flames began to spread to houses nearby and other areas through strong winds. About 103 hectares of forest, the size of 144 soccer fields, were damaged and about 40 homes were destroyed. No casualties were reported as of 1 pm, but authorities said they were having difficulties in extinguishing the fire as they were unable to dispatch helicopters due to strong winds.
According to the National Fire Agency, the highest level of response was issued at 9:43 am, which means resources from more than five districts are to be utilised to extinguish the fire. It is the first time this year that the third stage of fire response has been issued due to a forest fire.
Authorities had deployed 1,277 personnel, 109 pieces of forest fire extinguishing equipment and 10 helicopters to the scene as of 1 pm, but helicopters were waiting for winds to subside, as they are not allowed to fly in winds stronger than 20 metres per second.
The wildfire is suspected to have originated from a pine tree that was damaged by wind and came into contact with an electric wire, eventually spreading to the nearby forest.
The city government issued a disaster warning message to residents of the fire-stricken district urging them to evacuate to schools, community service centers or the Gangneung Ice Arena. As of press time, 303 people from 147 households have sought shelter in these designated locations.
Additionally, approximately 700 tourists who were staying in nearby accommodations also evacuated to safer premises.
A total of 15 elementary and secondary schools along the east coast suspended classes and sent students home in response to the fire situation.
Fire authorities have raised their response posture to the highest level and deployed over 1,410 firefighters and 200 fire trucks to combat the blaze, despite facing challenges due to strong winds.
Some cultural properties have also been endangered by the forest fire. Banghaejeong, a small pavilion from the Joseon era, has reportedly been burned, while another pavilion named Geumranjeong is not yet damaged, but is close to the fire. Culture authorities said they have sprayed water on other nearby cultural properties and historic buildings.
The Gangneung city government confirmed the assumption that the fire was caused by a broken pine tree touching an electric wire.
Meanwhile, President Yoon Suk Yeol ordered related agencies such as the Korea Forest Service, the National Fire Agency, local governments and the Defense Ministry to do their best to extinguish the forest fire by mobilising all equipment and manpower through close cooperation. Prime Minister Han Duck-soo also called for the safety of residents and firefighters.

(Latest Update April 7, 2023)