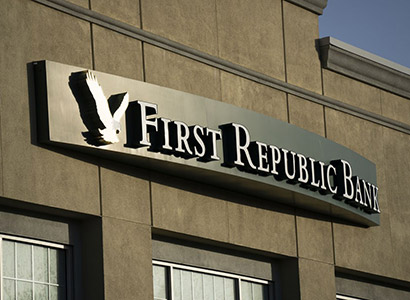 This photo taken on April 24, 2023 shows an exterior view of a branch of First Republic Bank in Millbrae, California, the United States. Photo Xinhua
European banks pull back after collapse of First Republic in US
ROME (Xinhua) -- European banking stocks fell sharply on Tuesday in the wake of the failure and subsequent takeover of United States-based First Republic Bank.
Markets have also been negatively affected by speculation over interest rate hikes in the United States and Europe, with officials overseeing the US dollar and the euro currency seeking to further contain record-setting inflation levels sparked by the conflict between Russia and Ukraine. Higher interest rates can help slow inflation, but can also add stress to the balance sheets of financial entities.
European stock exchanges were broadly lower on Tuesday, with the blue chip indexes in London and Frankfurt both down 1.2 percent, Paris losing 1.4 percent, and Milan retreating 1.6 percent.
Banking stocks helped lead the declines, with the STOXX Europe 600 Banks Index closing at 1.5 percent, after trading in positive territory for most of the day. The key index is now down 4.0 percent over the last five trading days.
The bank's index was down despite strong economic news from London-based HSBC, Europe's largest bank by assets and market capitalisation. HSBC shares finished the day up 3.5 percent after the bank revealed a surge in profits, as well as plans to spend 2 billion US dollars to buy back its own shares.
Since Monday was a holiday in Europe, Tuesday's trading session was the first on European markets since the problems with First Republic Bank came to light.
Despite a 30 billion US dollar bailout in March, First Republic failed due to a run on withdrawals by investors spooked by the twin crashes of Signature Bank and Silicon Valley Bank. First Republic was taken over by JP Morgan on Monday.
The collapse of First Republic Bank was the third significant bank failure in the United States this year, following the back-to-back crashes of California's Silicon Valley Bank and New York's Signature Bank in March.
However, First Republic Bank's problems are more significant. The San Francisco-based banker was far bigger than either of the other two banks, making its failure the second-largest for a United States lender after the 2008 failure of Lehman Brothers. The latter helped spark a global financial meltdown.
So far, Europe has avoided any major bank collapses, despite a close call in March when Swiss lender UBS bailed out troubled rival Credit Suisse.

(Latest Update May 3, 2023)