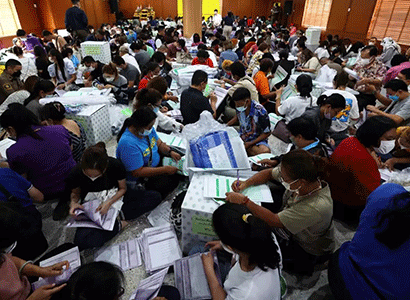 Thumbs up for polling stations countrywide after official inspection on Saturday

(The Nation/ANN) -- The Election Commission said polling stations are ready for Sunday's general election after examining ballots, voting machines, and other materials and equipment at polling stations throughout Thailand on Saturday.
All the equipment provided by the Election Commission is ready for a transparent election for voters and political parties, said commission official Khanchanok Kaiubon.
As many as 52 million Thais are eligible to cast ballots on Sunday.
This election will decide if Thailand retains a conservative government or returns to a populist one, political analysts say.
The government has been led for eight years by incumbent Prime Minister Prayut Chan-o-cha, who led a coup in 2014 to remove a Pheu Thai government.
Opinion surveys show that Pheu Thai remains the most popular political party in Thailand, and that its closest rival is the Move Forward Party, which is also campaigning on progressive policies.

(Latest Update May 15, 2023)