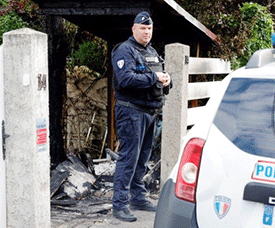 A municipal police officer stands in front of the damaged home of the Mayor of l'Hay-les-Roses Vincent Jeanbrun.
Shot teenager's grandmother urges end to riots, as home of French mayor ram-raided
 
(AP) -- The grandmother of the teenager shot dead by police during a traffic stop in a Paris suburb said on Sunday she wanted the nationwide rioting triggered by his killing to end, after a fifth night of unrest.
She said the rioters were using 17-year-old Nahel's death last Tuesday as an excuse to cause havoc and that the family wanted calm.
"I'm telling them (the rioters) to stop," the grandmother, identified as Nadia, told French media BFM TV.
"Don't break windows, buses ... schools. We want to calm things down."
"Nahel is dead. My daughter is lost … she doesn't have a life anymore," she said.
She said she was angry at the officer who killed her grandson but not the police in general and expressed faith in the justice system as France faces its worst social upheaval in years.
Asked about a crowdfunding campaign that had received pledges of more than 670,000 euros (US$1,097,393) for the police officer charged with voluntary homicide over the shooting, Nadia said: "My heart aches."
Since Nahel was shot, rioters have torched cars and looted stores, but also targeted state institutions - town halls and police stations.
The home of a Paris suburb mayor was ram-raided and set alight while his wife and children were asleep inside, during unrest which has gripped the country.
Vincent Jeanbrun, mayor of the southern suburb of L'Hay-les-Roses, said his wife and one of their two children, aged 5 and 7, were injured as they fled their home early on Sunday.
He said his wife had surgery on a broken leg and faced a three-month rehabilitation, and his family was targeted with fireworks as they fled through the backyard.
Mr Jeanbrun, from the conservative Les Republicains party, was not at home but at the town hall during the incident.
The town hall has been the target of attacks for several nights since the shooting and has been protected with barbed wire and barricades.
"At 1:30am, as I was in the town hall just like the two previous nights, people ram-raided my home before starting a fire to torch my house, where my wife and my two young children were sleeping," Mr Jeanbrun said on his Twitter account.
"While attempting to shield them and fleeing the attackers, my wife and one of my children got hurt."
He later told reporters: "There is no doubt in the fact that they wanted to burn the house and in fact, from the moment they learned that there was someone inside the house because the lights were on, far from stopping, on the contrary, they unleashed a salvo of mortar fire that was completely crazy."
"I was told that my wife's operation was successful and that it would not be long before she wakes up. So we're clinging to small victories."
The local prosecutor told reporters that an investigation into attempted murder had been opened.
No suspects have been arrested.
The prosecutor said the woman was injured as she fled through the backyard of the house. President Emmanuel Macron was holding a special security meeting on Sunday night. He has blamed social media for fuelling violence.
France's justice minister has warned that young people who share calls for violence on Snapchat or other apps could face prosecution.
The interior ministry said 719 people had been arrested on Saturday night (local time), compared to 1,311 the previous night and 875 on Thursday night.
More than 3,000 have been detained since the violence began, and 45,000 police officers have been deployed to the streets.
Paris's police chief said it was too early to say if the unrest had been quelled.
"There was evidently less damage but we will remain mobilised in the coming days. We are very focused, nobody is claiming victory," Laurent Nunez said.
The biggest overnight flashpoint was Marseille, where police fired tear gas and fought street battles with youths around the city centre late into the night.
There was also unrest in Paris, in the Riviera city of Nice and in Strasbourg in the east.
Over the weekend seven people were detained in the Swiss city of Lausanne after shop windows were smash in an "echo" of riots in the neighbouring country.
More than 100 people gathered in downtown Lausanne, in French-speaking western Switzerland, on Saturday evening, police said in a statement.
Several shop windows and a shop door were broken, while officers dispersed youths who threw paving stones and a Molotov cocktail at them.
Police detained six people aged between 15 and 17 - with Portuguese, Somali, Bosnian, Swiss, Georgian and Serbian citizenship - and a 24-year-old Swiss man.
The unrest delivers a blow to France's image a year before the Paris 2024 Olympic Games.
China, along with some Western nations, has warned its citizens to be vigilant due to the unrest, which could pose a significant challenge for France in the peak summer tourism season if it were to envelop prominent attractions.
China's consulate lodged a formal complaint after a bus carrying a Chinese tour group had its windows smashed in on Thursday, leading to minor injuries, China's Consular Affairs Office said.
In Paris, shop facades on the popular Avenue des Champs-Elysees were boarded up overnight, and there were sporadic clashes elsewhere.
Police said six public buildings were damaged and five officers wounded.

(Latest Update July 4, 2023)