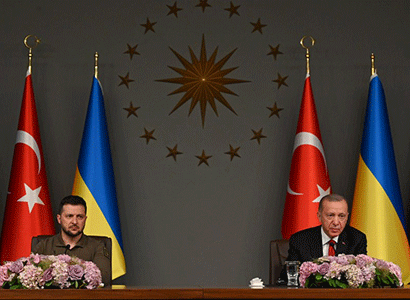 Turkish President Recep Tayyip Erdogan (right) and Ukrainian President Volodymyr Zelensky attend a press conference in Istanbul, Türkiye, July 8, 2023.
Erdogan says Türkiye takes "fair, balanced stance" in Russia-Ukraine conflict

ANKARA (Xinhua) -- Türkiye has taken a "fair and balanced stance" in the Russia-Ukraine conflict and strengthened ties with both countries, Turkish President Recep Tayyip Erdogan said Saturday.
"While strengthening our relations with Ukraine, we did not allow our relations with the Russian Federation to deteriorate," Erdogan said at a rally in the eastern province of Bayburt, after his meeting with visiting Ukrainian President Volodymyr Zelensky on Friday.
"Hopefully, we will meet with (Russian President Vladimir) Putin in August as well," he added.
Speaking of the negative effects of the conflict on the Turkish economy, the Turkish leader said "every event happening around us has reflections on the economy," adding energy and food prices have reached record levels all over the world.
This was Zelensky's first visit to Türkiye since the Russia-Ukraine conflict broke out in February 2022, but the Ukrainian president has often spoken by phone with Erdogan as Ankara has been pushing for peace talks between Moscow and Kiev.
In July 2022, the United Nations and Türkiye brokered the Black Sea Grain Initiative with Russia and Ukraine to provide a humanitarian maritime corridor for ships carrying food and fertiliser exports from Ukrainian Black Sea ports.

(Latest Update July 10, 2023)