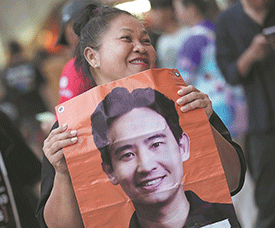 A supporter of the Move Forward party holds a poster of Pita Limjaroenrat during a rally in Bangkok on Friday.     --Photo AP
Renewed bid to become Thai PM faces hurdles

(China Daily/ANN) -- Pita Limjaroenrat is expected to renew his push to become Thailand's next prime minister, but analysts say this will be an uphill climb for the 42-year-old businessman-turned-politician.
The Move Forward party leader said he will seek a second vote for the top job this week and that if he fails again he will ask the Pheu Thai party, which came second in elections on May 14 and is Move Forward's key partner in the eightparty alliance, to lead the formation of the government.
"If it becomes clear that Move Forward cannot realistically lead government formation then I am ...open to having the party that came second, which is Pheu Thai, to lead," Pita said.
Despite Move Forward's stunning victory in May, analysts are unsurprised that not enough legislators voted for Pita during a joint session on Thursday.
Pita, the sole candidate, received 324 votes, 52 votes short of the threshold needed to elect a prime minister and form a government. The bicameral legislature is composed of 750 lawmakers, 500 of them elected in the lower house, and the rest are members of the upper house, the Senate, who are appointed by the Thai military.
Analysts said most of the senators decided to abstain on Thursday because they are conservatives who oppose Pita's view on amending the lese majeste law that punishes anyone for defaming or insulting the king or other royals. In Thailand the monarchy is widely revered.
Pita is also facing a court case and risks disqualification because the Election Commission found him in breach of election rules. There is evidence indicating that Pita owned shares in a media company when he filed for his candidacy, the commission said, which would violate the country's constitution.
Punchada Sirivunnabood, associate professor in the Faculty of Social Sciences and Humanities at Mahidol University in Thailand, said the coalition will continue to support Pita's push for the top post despite the setback. "His party won the largest number of seats."
Move Forward said it will continue to try to unite voices to form a government, Xinhua News Agency said.
"We accepted the result, but we are not giving up," Pita said. "I will strategise once again to consolidate the voice so we can gather more votes in the next meeting." Parliament will hold its second ballot for a new prime minister on Wednesday.
Kitti Prasirtsuk, director of the Institute of East Asian Studies at Thammasat University in Thailand, said Pita's failed attempt on Thursday has disappointed citizens who felt their votes did not count as much as senators' votes. Members of the coalition will try to lobby, especially among those who abstained, to muster support for Pita, Kitti said.
Kitti, even though he is pessimistic about legislators changing their minds, said "the coalition will fulfill their commitment" to supporting Pita.
Popular among youth
Pita is popular among Thais, said Titipol Phakdeewanich, dean of the political science faculty at Ubon Ratchathani University in Thailand, alluding to Pita's broad appeal especially among young Thais.
The coalition will continue to nominate Pita as prime minister, he said. "They're hoping to convince (other legislators) to vote for Pita. They can keep nominating him unless there's another candidate."
Mark Richard Thompson, director of the Southeast Asia Research Centre at the City University of Hong Kong, said it is unlikely that Pita will garner more support in the parliament given the existing "tensions and sometimes open conflict" between the Thai establishment and the forces of change. This has been a familiar pattern in Thai politics for more than 20 years, he said.
He could not foresee senators' votes changing, he said, unless "something dramatic happens".

(Latest Update July 18, 2023)