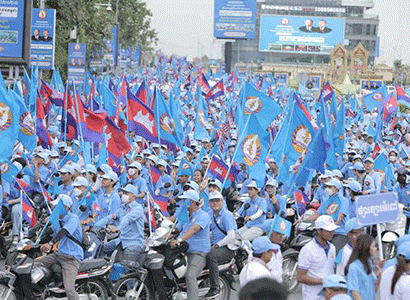 Supporters of the ruling Cambodian People's Party (CPP) rallied on the last day of the election campaign, July 21.
NEC reports smooth conduct of 21-day election campaign

(The Phnom Penh Post/ANN) -- The National Election Committee (NEC) reported that the 21 days of the election campaign had progressed smoothly.
NEC spokesman Hang Puthea shared these observations at a meeting with relevant stakeholders on July 21, noting that various political parties had carried out different election campaign activities.
Some parties held public gatherings with supporters, held rallies at their offices or engaged in door-to-door visits. Others staged concerts, displayed slides in public spaces, distributed flyers or utilised loudspeakers to broadcast their names, party affiliations and campaign slogans.
Among the 18 parties, 16 staged processions in their constituencies.
According to NEC observations, the CPP's campaign has been the largest in scope.
During the 21-day period, a total of 2,236,794 individuals participated in political party election campaigns, it said.
Participants utilised a variety of campaign vehicles: 99,794 cars, 722,733 motorcycles, 10,240 tuk-tuks, 3,491 hand-trailers, 857 powerboats and 620 bicycles.
Local authorities had made diligent efforts to facilitate these campaign activities.
They have implemented measures to ensure security, safety and public order, particularly in terms of managing traffic during these events.
However, that was not without challenges. As of July 20, the commune election commissions had received a total of 32 election-related complaints.
The local election commissions had addressed some of these issues, while others had escalated to the capital-provincial electoral commissions and ultimately to the NEC for resolution.
This multi-tiered system of addressing complaints ensures that every grievance is heard and resolved in an orderly manner, maintaining the integrity of the election process, NEC said.

(Latest Update July 24, 2023)