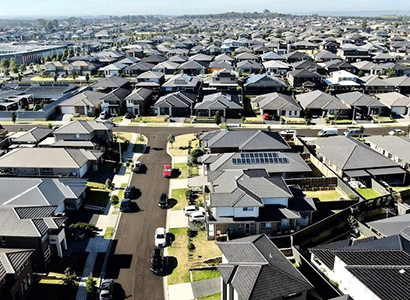 A report says 80 per cent of renters spend more than 30 per cent of their income on housing. --Photo ABC
Housing stress affecting growing number of Australians, survey finds, amid calls for action

(ABC) -- Housing advocates warn that the nation's housing crisis is getting worse, with a survey of hundreds of renters revealing the majority are now under "housing stress".
The survey by campaign group Everybody's Home shows four out of five renters are spending more than 30 per cent of their income on housing.
Experts often use this threshold when considering housing affordability, particularly for low-income households.
"Rents have been surging for more than a decade and we're at a point where people can't keep absorbing them," Everybody's Home spokesperson Maiy Azize said.
The report, called Brutal Reality, surveyed more than 700 people.
Among renters and mortgagees combined, it found 75 per cent of people are scared about their financial security because of the housing crisis.
Ms Azize said some states and territories had tried to limit rent increases, but those measures had not gone far enough.
"We know that the state and territory housing ministers are meeting with the federal government in August and we'd like to see the federal government show some leadership there," she said.
"Not just leave it to them, but actually show some leadership there and ask them for a couple of things.
"[Governments should] limit these unfair rent increases, end no-cause evictions, improve rental standards for people.
"All of those things came through in our survey and all of those things are places where the federal government is missing in action."
The report also stated two-thirds of renters said the accommodation crisis was affecting their mental health.
Ms Azize criticised the federal government's Housing Australia Future Fund, saying it would provide a fraction of the housing needed.
Housing Minister Julie Collins provided a statement, saying the Housing Australia Future Fund would make a difference.
She also said the government's new US$2 billion Social Housing Accelerator would help deliver thousands of new homes across Australia.
While there has been plenty of discussion about soaring rent prices in major cities, Carol Godwin from Anglicare Central Queensland, says the crisis is also hitting hard in regional areas.
"Typically they're a fairly resourceful bunch," she said. "They've been able to source alternatives, even when things are tough.
"Now they can't. There's nothing there to assist families and individuals."
Ms Godwin acknowledged governments were working on the problem, but said with fewer than 500 new social housing projects delivered in Queensland in the past financial year, things were not moving fast enough.
"In the next 10 years we need 11,000 properties each year, and if you're not even getting 500 in the social housing space, they're not going to be able to break the back of this housing crisis," she said.
It is not only renters who are under stress.
The Reserve Bank says mortgagees are increasingly under pressure.
The minutes from its most recent meeting noted that as borrowers with fixed-rate loans rolled off those and went onto higher variable rates, housing stress would grow.
Research from the ANU's Centre for Social Research and Methods shows mortgage borrowers are facing the highest housing costs relative to income since at least 1984.
It also found Australians with mortgages had seen a 47 per cent increase in their housing costs, relative to their income, compared to before the pandemic.

(Latest Update July 25, 2023)