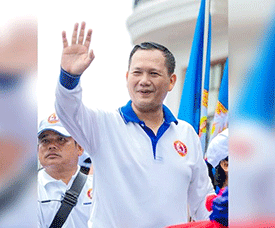 Hun Manet led Cambodian People's Party's election campaign in Phnom Penh on July 21.
--Photo HUN MANET via FB
King appoints Hun Manet as Prime Minister

(The Phnom Penh Post/ANN) -- King Norodom Sihamoni on August 7 issued a royal decree appointing Hun Manet, an elected lawmaker for Phnom Penh, as the prime minister of Cambodia.
The decree followed the request of outgoing Prime Minister Hun Sen, president of the Cambodian People's Party (CPP) which has secured 120 out of the National Assembly's 125 seats, at the July 23 general election.
"The designated Prime Minister is tasked with forming a new government pending avote of confidence at the National Assembly," stated the decree, effective immediately.
Hun Sen posted the decree on his Telegram channel shortly after the appointment.
The prime minister-in-waiting will be officially sworn in on August 22, following the vote of confidence.

(Latest Update August 8, 2023)