Emergency bushfire warning issued for Coolagolite, Kearsley blaze alert downgraded
(ABC News) – A bushfire is impacting homes and properties on the New South Wales South Coast, while another blaze has been downgraded from an emergency level.
An emergency warning has also been issued for the Coolagolite blaze in the Bega Valley and homes in Bermagui, Cuttagee, Barragga Bay, Bunga Beach and Murrah are likely to be impacted.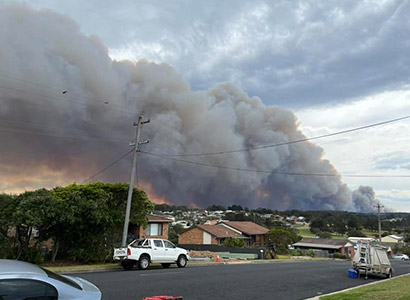 Firefighters are still working to control a fire that swept across an area containing unexploded WWII bombs in northern New South Wales.
Residents in those towns have been told it is too late to leave and to seek shelter as the fire approaches.
The Coolagolite fire is moving in an easterly direction under strong westerly winds and is impacting homes in the Cuttagee and Barragga Bay area.
Angela Burford from the RFS said wind speeds of up to 100 kilometres per hour were creating challenging conditions.
"A fire burning in very dense, dry bushland with gusty winds like that is very difficult to contain and that blaze is now putting up embers, which those winds are carrying hundreds of metres ahead of the front," she said.
Conditions are expected to ease ahead of tomorrow, but a southerly wind change expected tonight is a cause of concern.
"We are hoping to see a reduced risk as we move into this evening but we are concerned about that wind change as we move closer to about midnight tonight," Ms Burford said.
"We are expecting to see some precipitation tomorrow, but we aren't sure how much.
"It certainly looks unlikely that it will be enough to put this fire out."
A fire burning in bushland at Kearsley, south-east of Cessnock in the Hunter Valley has been downgraded to watch and act level.
The fire has burnt more than 190 hectares and is travelling in a southerly and easterly direction.
Spot fires are occurring ahead of the main front in the Elrington area.
Residents are being told to remain vigilant for spot fires and take the advice of firefighters on the ground.
An evacuation centre has been established at the East Cessnock Bowling Club on Neath Street.
Livestock can be taken to the Cessnock showgrounds.
It comes as firefighters are still working to control a fire that swept across an area containing unexploded WWII bombs in northern New South Wales.
The fire is one of 82 now burning across the state, and is listed by the Rural Fire Services (RFS) as being controlled.
The fire broke out on Friday south of Evans Head and quickly moved into the Bundjalung National Park, threatening the campground and forcing visitors to leave the area.
By Monday, it had torn through an RAAF air weapons range, which is used for bombing exercises at certain times of the year.
District manager of the Northern Rivers Rural Fire Service, Daniel Ainsworth, said firefighters were forced to keep a distance of 1.8 kilometres while the fire travelled over the bombing range.
An adjacent area is an unexploded ordinance zone.
The area was used for target practice during and after WWII and still contains bombs from that era under the ground.
Mr Ainsworth said it was a challenging day.
"Most of the area has been cleared up but this is an area where the bombs are too unstable to move," he said.
"They are buried underground and they do pose a small risk to firefighters."
He said the Australian Defence Force had been working with the RFS to advise them on the exact exclusion zone.

(Latest Update October 4, 2023)