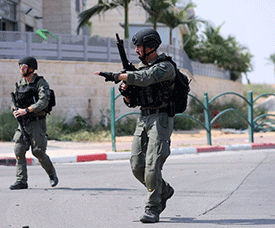 This photo taken on October 8, 2023 shows Israeli soldiers at the southern Israeli town of Ofakim.
Israel declares "state of war" as conflict with Hamas continues

JERUSALEM/GAZA (Xinhua) -- Israel's cabinet declared a "state of war" on Sunday after a massive surprise attack launched by Hamas has so far killed at least 700 in Israel while retaliatory Israeli airstrikes killed at least 413 in Gaza.
The Israeli army continued its extensive airstrikes on targets in Gaza on Sunday as Hamas militants are fighting with Israeli soldiers on Israeli territories.
Hamas militants remained in control of several communities in southern Israel on Sunday evening, as the Israel Defense Forces (IDF) soldiers engaged in gunfights with them, the IDF Spokesman Daniel Hagari said.
Zaka, an Israeli rescue service, said in a statement that it has collected the remains of about 260 young women and men who were partying at the Nova festival, an outdoor music event in a rural farmland area near the Gaza-Israel fence.
Many festival attendees were still missing on Sunday night. Social media was flooded with people trying to locate their relatives and friends after Hamas militants raided the festival and other locations in the area as part of the massive surprise attack on Israel that included the firing of thousands of rockets.
The Palestinian Islamic Jihad (PIJ), a militant group that operates in Palestinian territories, has also joined Hamas and launched attacks on Israel.
In a televised speech on Sunday, Ziad al-Nakhalah, the Secretary-General of the PIJ, stated that the group had taken custody of 30 Israelis and declared that they would not be released unless Palestinian prisoners were freed from Israeli jails.
Outside Gaza, Israeli forces and Lebanon's Iran-backed Hezbollah militia engaged on Sunday in artillery and rocket exchanges.
Hezbollah expressed solidarity with Hamas and claimed responsibility for a rocket attack from southeastern Lebanon into Israeli-occupied territories.
In Egypt's northern province of Alexandria, two Israeli citizens and their local Egyptian guide were killed when they were on a tourist group tour when local security personnel opened fire on them.
In a show of support for Israel, US Defense Secretary Lloyd Austin announced on Sunday multiple military ships and aircraft would be sent closer to Israel.
An editorial in Ha'aretz newspaper on Sunday criticised the Israeli security forces for what it deemed an "intelligence and military failure."
The editorial also blamed Prime Minister Benjamin Netanyahu for forming a far-right government which has pro-settler ministers that neglected Palestinians' rights and contributed to mounting anger and frustration, factors that played a role in the recent attack.
Israeli analysts believe that Hamas has carefully planned the military operation. Yoel Guzansky, a senior researcher at the Israel Institute for National Security Studies, told Xinhua that Hamas' preparation for the military operations "is estimated to have taken several months."
Additionally, Israel has been observing various Jewish festivals, including Rosh Hashanah (the Jewish New Year), Yom Kippur, and Sukkot, since mid-September. The recent attack occurred amid Israeli holiday season, a time when Israel's vigilance tends to decrease, according to Eyal Pinko, a senior researcher at Israel's Begin-Sadat Centre for Strategic Studies.
Israeli military analyst Avi Benayahu has observed that the current round of conflict differs significantly from those in past decades due to the fact that Gaza-based militants currently hold a substantial number of Israeli civilians and troops as hostages, potentially influencing the scale of Israel's response.

(Latest Update October 10, 2023)