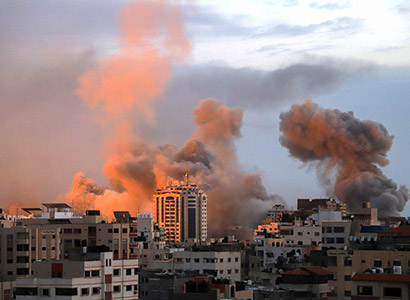 Smoke rises following an Israeli airstrike in Gaza City, October 9, 2023.
Israel besieges Gaza amid intensified conflict with Hamas, attacks on border with Lebanon

JERUSALEM/GAZA (Xinhua) -- Israel intensified its air strikes in Gaza on Monday and imposed a "complete siege" on the Palestinian enclave on the third day of conflict following the Palestinian Islamic Resistance Movement's (Hamas) Saturday surprise attack on Israel.
"I've ordered to move (from defense) to a massive offensive on a scale never seen before," Israeli Prime Minister Benjamin Netanyahu said in a live address to the nation on Monday.
In the morning, Israel Defense Forces (IDF) Spokesman Daniel Hagari told reporters in a briefing that the military has regained control over all the communities in southern Israel, which were stormed by Hamas militants on Saturday after they broke out through the security fence between Israel and Gaza.
Later, the Al-Qassam Brigades, the military wing of the Hamas movement, said that Israel's raids on the Gaza Strip led to the killing of 4 Israeli prisoners and their captive members.
At night, Israeli Energy Minister Israel Katz announced that "all the water supply pipes from Israel to the Gaza Strip have been disconnected." Israel also halted the passage of goods, electricity and food to the Strip.
"Israeli air strikes hit 86 towers in the Gaza Strip and this led to various damages," told an official in Palestine Telecommunications (Paltel) Company.
In response to the Israeli threats, Hamas' military wing's spokesman Abu Obeida warned in an audio statement that "any targeting of our people in their homes without prior warning will be regrettably faced with the execution of one the hostages of civilians we are holding."
Gaza's militant groups said about 130 hostages were in Gaza, including dozens with dual citizenship. Thailand confirmed that 11 Thai nationals are held captive by Hamas.
Israel's Foreign Minister Eli Cohen said in a briefing that the hostages include toddlers, women and elderly, adding that his country was committed to bringing the hostages back home.
Israel's state-owned Kan TV reported on Monday that at least 900 were killed by Hamas militants in Israel, while the death toll from Israeli airstrikes in Gaza rose to 687, including 140 children and 105 women, according to the Palestinian Health Ministry in Gaza.
The United Nations Office for the Coordination of Humanitarian Affairs (OCHA) announced on Monday that "more than 17,500 families, including more than 123,538 people, were displaced."
In this regard, Palestinian President Mahmoud Abbas stressed during a phone call with the UN Secretary-General Antonio Guterres the importance of delivering relief and medical aid to the residents of the Gaza Strip to prevent a "humanitarian catastrophe" in Gaza.
Guterres said that the United Nations is making efforts to provide urgent humanitarian relief aid to the residents there, according to the Palestinian News Agency (WAFA).
On Monday, Netanyahu also said the Israeli military was enhancing security along the northern border, where militants in southern Lebanon had fired mortar shells toward northern Israel on Monday afternoon.
Al-Quds Brigades, the military wing of Palestine's Islamic Jihad Movement, claimed "its responsibility" for the operation carried out on the border with occupied Palestine, injuring seven Israeli soldiers.
Hezbollah, a Lebanon-based armed group and political party, said it attacked on Monday evening the Israeli Pranit and Avivim barracks in northern Israel with guided missiles and mortar shells, in response to the killing of three of its members by Israeli strikes in southern Lebanon earlier in the day.

(Latest Update October 11, 2023)