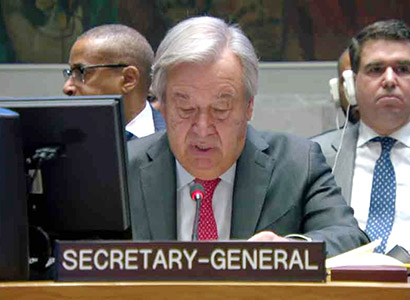 United Nations Secretary-General António Guterres
UN warns of clear violations of international law in Gaza

United Nations (Prensa Latina) -- United Nations Secretary-General António Guterres on Tuesday warned of clear violations of international humanitarian law in the Israel-Palestine conflict.
Speaking at the open debate convened by the Security Council, the UN chief demanded, above all, the protection of civilians in what he considered a crucial moment in the hostilities.
It is vital to be clear about the principles, starting with the fundamental ones of respecting and protecting civilians, he remarked. Guterres rejected Hamas's actions on Israeli territory on October 7, which he described as unprecedented acts of terror.
It is also important to recognise that this incursion did not occur in a vacuum. The Palestinian people have been subjected to 56 years of suffocating occupation, he recalled.
The UN chief called on both sides to fulfill their obligations under international humanitarian law and take care of the conduct of military operations to protect the population.
At the same time, he urged to respect and protect hospitals and the inviolability of UN facilities that house more than 600,000 Palestinians.
The constant shelling of Gaza by Israeli forces, the number of civilian casualties and the total destruction of neighborhoods continues to increase and is deeply alarming, he stressed.
The secretary-general regretted the deaths of UN colleagues and honored those who work in dangerous conditions and risk their lives to bring aid to those in need.
"They are an inspiration," he remarked.

(Latest Update October 26, 2023)